Journey Through the Chakras
Thursdays 7:15-8:45 pm
July 12-August 23
In this 7-week Kundalini Yoga series, we will explore the physical, spiritual and emotional aspects of each chakra. Every class will include a brief introduction to the chakra as well as a kriya and meditation designed to awaken that specific energy center.
You'll have the opportunity to learn about each chakra individually while experiencing how they inter-relate and intersect. We're holistic beings, so while it's important to understand the various parts that make us who we are, we also must remember that we're greater than the sum of our parts. Understanding the chakras is a gateway to understanding ourselves.
Use your class card or register for the full series by purchasing our Chakra Series card. Please note that these classes tend to sell out so please pre-register to guarantee your space.
$105 for all 7 classes / members: no additional charge. Purchase a class card here.
Thursday July 26, 8:30 pm
The gravitation pull of the full moon is said to heighten the meditation experience. The moon has an effect on the water content of the body, and through meditation we can harness that power and make it work for us.
Join us for a 31-minute Full Moon Meditation on Monday April 30, immediately following the 7:15 pm Kundalini Yoga class. Can't make it to class? The doors will open for the meditation at about 8:25 pm. (Please note that the doors will be locked once the meditation starts).
All levels, no meditation experience is required. Sign up here.
Donations accepted.
Wednesdays 6-7 pm
August 1 to 22
Teacher: Jamila Crowther
Learn basic Pilates principles and explore your core in a high energy and fun workout for any fitness level. In this four week series, you will learn how to sculpt a strong torso and strengthen stabilizing muscles of the core and lower body in a supportive, yet challenging environment.
Pilates is a form of mindful movement, that emphasizes the body's core (abdomen, obliques, gluten, inner thighs) to create more a more buoyant and resilient form. It focuses on what yogis and exercisers need, including strength, coordination, balance and flexibility.
Students of pilates often comment that they feel an or two inch taller after leaving class because of the emphasis on posture and alignment. With so much variation in the exercises and workout, you'll never get bored in this practice, because no two pilates workouts are ever the same!
Sunday August 12, 5-7:30 am
Join us during the Amrit Vela, the still hours before the sun rises, when our awareness is heightened and our meditation practice is deepened. We start at 5 am with a recitation of Japji, then continue with a Kundalini Yoga kriya, and finish with 62 minutes of chanting.
Free and open to all. Register online.
Upcoming dates: Special sadhana on August 26 for Yogi Bhajan's birthday.
Teacher: Meredith McCullough
Fridays, 11 am to noon.
Fall session starts on September 7. Just $90 for all 6 classes. No drop-ins please!
Inspired by the Itsy Bitsy yoga model, most of the "yoga" is for the baby, but each week we take time to introduce breathing/relaxation techniques and include some gentle yoga moves for caregiver as well.
Most appropriate from 6-weeks postpartum until baby is mobile. No previous yoga experience necessary. Please bring a receiving blanket and maybe a small toy each week. Also note that babies are always welcome in this space where sleeping, feeding, and even crying are legitimate ways to participate in class, so please bring whatever else you need to be comfortable.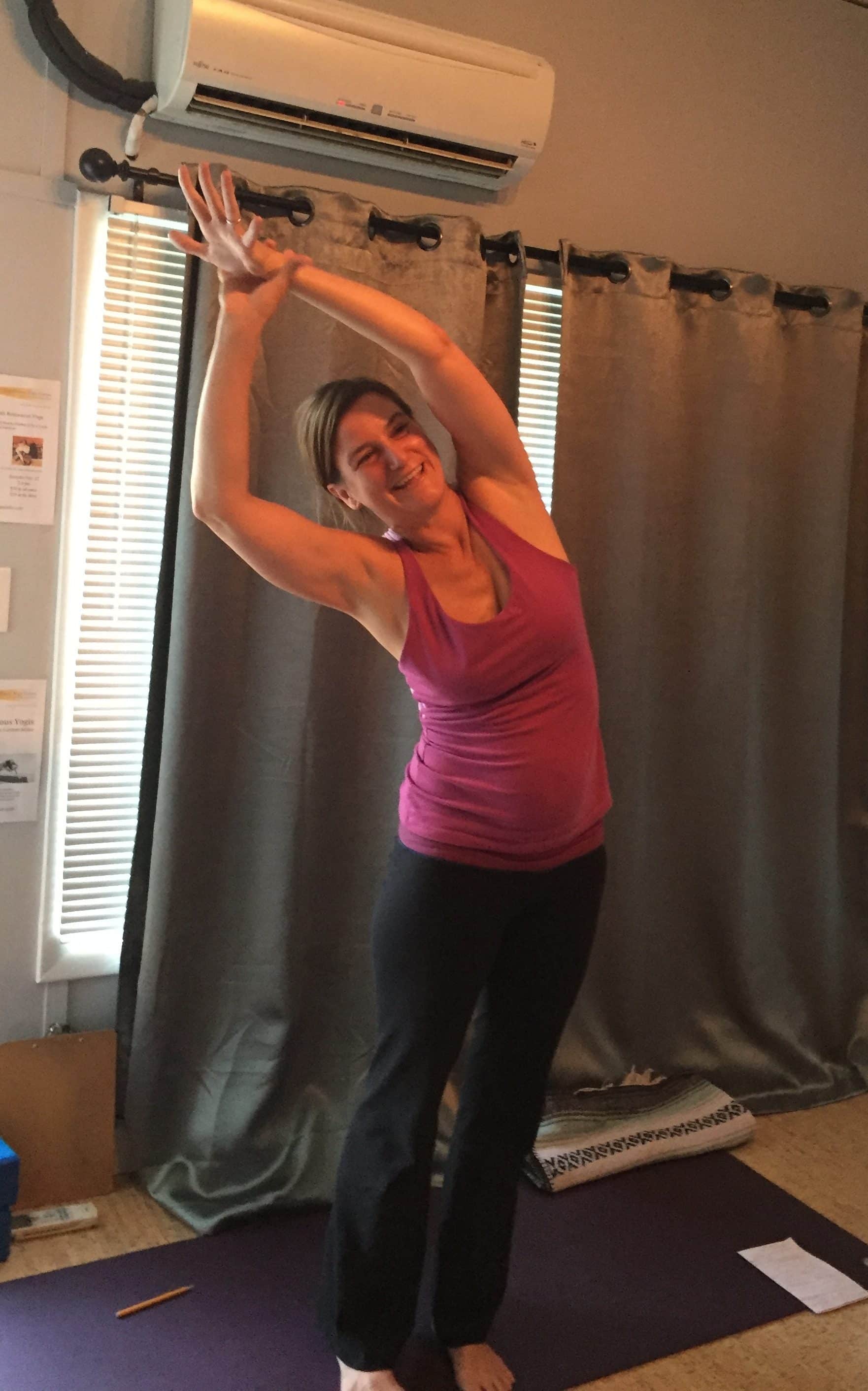 Our next Yoga Fundamentals series starts on August 29.
$120 for all 8 weeks, including a weekly video homework assignment. To register, purchase the Yoga Fundamentals Class Card. Gift certificates are available for this course.
Wednesdays, August 29 to October 17, 6-7 pm
Teacher: Meredith McCullough.
This class is a wonderful introduction to the building blocks of Hatha Yoga, so you can deepen your practice safely and effectively.
Students will learn the basics of a yoga class, including:
**Fundamental poses to increase strength and flexibility
**The structure of an average yoga class
**Practices to create deeper awareness on and off the mat.
with Meredith McCullough
Check back for updates on class times.
Yoga for Movers and Tots is an opportunity for crawlers, movers, and preschoolers to begin to explore yoga – alongside their parent or caregiver – in a caring, safe, and FUN environment. Together we will learn songs, games, and poses that are designed to encourage body awareness, increase attention span, nurture creativity, and generally support development across this range of ages. Each class incorporates repetition, social interaction, music, fun with props … and always play! Duration of class is one hour, with dedicated time for free play built into the first 10 minutes of class. Siblings welcome. Caregivers are expected to fully participate in class, but no prior yoga experience is required for either caregivers or children. Be prepared to join the action!
6-Week Specialty Prenatal Yoga Series with Kate Miller
We welcome Kate Miller to Lighthouse Yoga Center! Kate is well-known in the DC-area as one of the top prenatal yoga teachers. She has instructed and inspired moms for over 20 years and is bringing her prenatal yoga skills to Petworth.
Prenatal yoga gives mamas the important time and space to relax and feel more comfortable with their changing bodies, as well as to deepen the growing relationship with their baby. This class is open to all levels of yoga experience, during any stage of pregnancy.
Sundays June 24 to August 5 (no class July 15), 4:30-6 pm. Cost for the full series is $110.
See details here.
Join us for this special class that will give your kids an opportunity to experience the benefits of Kundalini Yoga alongside parents and caregivers, who practice with them. While the class will be taught as a "normal" Kundalini Yoga class, the Kriyas will allow for shorter holding times and modifications when needed, so that everyone can stay together, physically and mentally. We'll incorporate some fun partner warm-ups along with other fun activities to keep the young ones engaged!
See more details here.
$25 for one adult and child; $10 each additional participant (payable onsite)
(Members pay only $20. Email us for your discount code.)
Upcoming dates pending.
Transitioning to a Plant-Based/Vegetarian Lifestyle
Stay tuned for new date!
Join LYC owner and life-long vegetarian Julie Eisenberg for a 90-minute exploration of ways to begin to leave unhealthy eating habits behind.
All too often we eat "healthy foods" that are wreaking havoc on our bodies, but there is a simple solution – a vegetarian lifestyle. You can leave the confusion, diet books and deprivation behind. This workshop will show you the foods that may be ruining your health and happiness and which foods will fuel your body in a safe, effective way. You'll learn how to nourish yourself with the right protein, whether you want to become a vegetarian or vegan or just cut back on the amount of animal protein you're eating. Learn new healthy habits that will leave you feeling great from your cells to your soul!
$25 ($20 for members) in advance. $30 at the door.