Good-Bye Naomi
Hello Liz!
After almost four years at Lighthouse, teaching everything from Yoga Fundamentals to Advanced Asana, and leading three Hatha Yoga Teacher Trainings, Naomi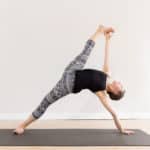 Gottlieb-Miller says good-bye to Lighthouse Yoga Center and to Washington, DC this weekend.*
As sad as we are to see her go, we're thrilled to welcome several new teachers to Lighthouse, including the amazing Liz Butler who will be carrying the torch on Mondays at 7:15 to lead the Advanced Asana class.
Naomi has brought us years of laughs, joy, love, and sometimes frustration (in a good way, of course). In addition to teaching her dynamic, brilliantly-sequenced classes, Naomi has made Lighthouse part of her life and introduced us to her entire family: husband Nathan, one of our most popular teachers until he left DC last year; daughter Milly, who used to come by and brighten our day with her hello's and good-bye's between classes; and baby Archer, who has accompanied his mom to classes, trainings and retreats.
You can't ask for much more than that in a teacher.
There are
very few true "Advanced Asana" classes in DC, and few teachers with the skill and experience that Naomi brings to the mat. In these past couple months, we have searched far and wide to find teachers to fill this void, and thankfully we have a number of fantastic new (to Lighthouse) instructors who are joining us to maintain the incredibly high quality that makes Lighthouse a top studio.
Liz Butler comes to us via Blue Heron, where she has previously worked as the Yoga Director. Liz began her yoga journey over 16 years ago and, like Naomi, completed her Anusara teacher training more than a decade ago. Through the years, Liz has become one of DC's most sought-after and popular teachers. Her playful and spirited attitude makes yoga and its benefits fun and accessible for everyone.
Catherine Marquette joined Lighthouse last month and is also a highly-skilled teacher with advanced training in alignment and sequencing. She teaches an energetic, well-rounded class with fantastic alignment cues and lots of movement. You'll find Catherine on Sundays at 10 am—this is definitely a class you don't want to miss!
Meredith
McCullough, who has been teaching our insanely popular family classes as well as Yoga Fundamentals and Level 1, now moves to Wednesday evenings to take over Naomi's Mixed Level Hatha class at 7:15 pm. Meredith is another instructor who was trained in the Anusara style and who has added her own playful and challenging spin to her classes. Expect lots of laughter and a bit of the unexpected.
To round out the changes, Andrea Messina will take over the Tuesday 6 pm Level 1 class along with Friday Sunrise Hatha, and Samantha Miller is teaching the Tuesday 7:30 pm Align and Flow and Wednesday Sunrise. Andrea and Sam both completed their Hatha Yoga Teacher Trainings at Lighthouse with Naomi Gottlieb-Miller.
I'm sure you're going to love our new schedule, as well as the other new teachers who have joined us this year. Please try them all out and let us know what you think.
*There's still a little bit of room in Naomi's Hatha Yoga Immersion Program which starts this Saturday, February 4.