Meet Catherine Marquette, who joined the Lighthouse community in January when she returned to DC after 8 years of living away.

Catherine first came to yoga through injury – two foot surgeries had ended the former collegiate runner's life as she knew it, and her doctor prescribed yoga as a way to find movement in the bones and strength in the muscles. What she didn't realize was that yoga would also be the way to calm her Type A wandering mind and integrate her body, mind and breath.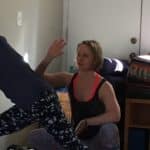 Catherine's classes are challenging and invigorating. They're fast-paced with creative sequencing and very helpful alignment cues to teach you to get deeper into a pose safely. Catherine teaches wonderful mixed level classes that appeal to beginners and experienced yogis alike. Her students tell us that her classes are the highlight of their week, and her fan base at Lighthouse is quickly growing.
Catherine is a RYT-500 teacher who has trained with senior teachers in DC and NYC. She also has received advanced training in anatomy and principles of safe alignment. Like many of our teachers, Catherine is a Petworth resident and loves bumping into students on the street!
You'll find Catherine at Lighthouse on Sunday mornings at 10 am and she frequently subs during the week.
Register for Catherine's classes here.