Join us for a 4-week series that explores various aspects of contemporary queer identity through asana practice, guided meditation, and yogic philosophy. Each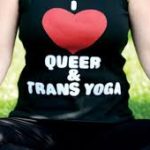 week will begin with a grounding seated pranayama and meditation practice, followed by an active, hatha-style movement practice. Throughout the four weeks, we'll focus on themes of queer healing, reclamation & resilience, celebration & pride, and queerness as spirituality and activism. All bodies and levels of practice are welcome.
*
Teacher: Melanie Williams, RYT-200 and self-identified fat, queer, cis femme, invites all queer-identified folks to join her for this four-part hatha yoga series to practice, commune, and thrive together.
*
Sunday 7-8:15 pm
September 17-October 8
$60 for the full series ($30 for LYC members). Drop-ins by prior approval and space-permitting.
Register
here
by purchasing the  "Queer Identity" class card.
Why a class on Yoga and Queer Identity?
The American political climate is undeniably bleak, and times are particularly difficult for folks belonging to marginalized communities. As we continue to contend with an oppressive administration, a divided country, news of hateful violence at home and abroad, and the everyday ignorance that has always affected the queer community, we must continue to create spaces for mutual support, self-care, reverence (and irreverence), and celebration of ourselves and our loved ones.
About Melanie
Melanie Williams, RYT-200, found yoga while experimenting with ways to build a relationship with a body she had largely disconnected with. After many years of dedicated personal practice, she completed her 200-hour yoga teacher training at Capitol Hill Yoga in 2016 under the tutelage of Tara Lemerise and Alyson Shade. Melanie is described by students as a welcoming, intuitive, and adaptively challenging teacher, and by peers and mentors as both knowledgeable and constantly learning. When she's not teaching or practicing, she can be found managing a radically-inclusive holistic wellness center on Capitol Hill or advocating for diversity and accessibility in the yoga industry as a member of the
Yoga & Body Image Coalition
's leadership team. You can learn more about Melanie on her website,
Found Space Yoga
.