A special 4-week yoga series specifically for men.
If there was ever a time for more men to be involved in the practice of Kundalini Yoga, that time is now. Men today are challenged by numerous societal issues that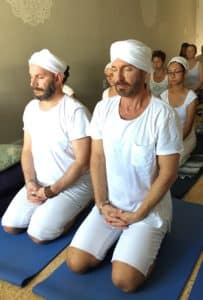 have sometimes compromised their ability to live healthy, happy and holy lives. The increase of men succumbing to episodes of depression, anxiety, illness and suicides, due to inability to adequately cope with external pressures caused by our faced-paced ever-evolving technology, and more, is alarming. Add to this the rise in the incidents of sexual and domestic assaults and harassment, caused by unstable relationships, and the picture of where the mind of man is headed, appears bleak. That's the bad news. Here's the GOOD news.
Kundalini Yoga, as taught by Yogi Bhajan, represents part of the solution for men to acquire and maintain a life of calm, grace, power, and discipline. And now, this sacred science is being offered, for men only, in a four part series entitled: The Yoga Man Experience. This series will provide a challenging, relaxing, energizing and thought -provoking experience, especially designed for men. Through selected kriyas, classes will focus on balance, flexibility, breathing techniques, meditation and mantras. All men 18 years of age and older are welcome. No previous yoga experience is necessary.
Instructor: Cordell Richardson, PhD, MsD
Dates: Sunday October 22-November 12, 7-8:15 pm
Sign up online or just show up!
About Cordell:
Cordell is a compassionate educator with over thirty years experience in the areas of teaching, administration, consulting, sales and marketing and training.  A native of Pittsburgh, PA, he holds a BA in sociology and psychology from Lincoln University, PA; a M.A.T and Ph.D in secondary education and higher education administration and student affairs, respectively, from the University of Pittsburgh, and an MsD in metaphysics from the College of Divine Metaphysics in Glendora, CA.
Cordell embarked upon a metaphysical journey several years ago, which led him to spend most of his professional career working to encourage and inspire young people to explore the depths of their wisdom and knowledge and to work towards  maximum achievement in the engagement of work closest to their heart.  His efforts, in this regard, were most notably demonstrated while holding leadership positions in two national educationally driven organizations, and three universities, namely, Carnegie-Mellon University in Pittsburgh, PA, the California School of Professional Psychology in Los Angeles, CA and Howard University in Washington, DC, from which he recently retired as the university's' judicial officer.
Having been influenced by such notables as Deepak Chopra, Og Mandino, Napoleon Hill, and many more, and now Sadghuru and  Yogi Bhajan, Cordell has set a future vision  for himself to teach yoga to young men and boys, both nationally and internationally.
Cordell completed his training as a Level One Instructor of Kundalini Yoga  at the Lighthouse Yoga Center in November 2015. He has since formed Yoga Man, LLC, a Maryland based corporation, and the parent company for The Yoga Man Experience, through which he plans to advance the teaching of Kundalini Yoga.