Are you looking for a way to deepen your understanding of racism and white fragility, and how these affect you?  Do you want to help create an antiracist community of other yogis, to move forward on this path together?
If so, this 40-day practice is for you!
This course is an investment. It includes 3 weekend workshops, daily workbook work, optional weekly check-ins with the facilitator, and the opportunity to unlearn whiteness. 
40-Day Practice:
Build Emotional Stamina to Counter White Fragility (Online)
September 20 through November 1
Leader: Beth Godbee, Ph.D.
This 40-day practice includes workbook, guided meditation, an opening session, two 3-hour interactive workshops using theatre of the oppressed, and the option to drop into weekly processing groups for ongoing support.
Register here.
Description:
White supremacy is both internalized and institutional; it's both systemic and enacted through everyday interactions. And it's certainly, undeniably, the work of white people to resist, reckon with, and repair.
As part of this work, this 40-day practice shares frameworks for recognizing and responding to white supremacy within ourselves, in our interactions, and in our communities, including in our families, workplaces, and holidays.
As the title indicates, this practice engages participants in strengthening emotional stamina, which is needed to counter white fragility, or the discomfort and defensiveness that arise within white folks when confronted with racial injustice. Such work means sitting with discomfort, identifying and naming emotions as they arise, and developing staying power to be in the work for racial justice for the long haul.
This practice, therefore, is for anyone who experiences white fragility, who identifies as white, or who's working to unlearn whiteness (which includes ways of feeling, thinking, being, doing, and relating).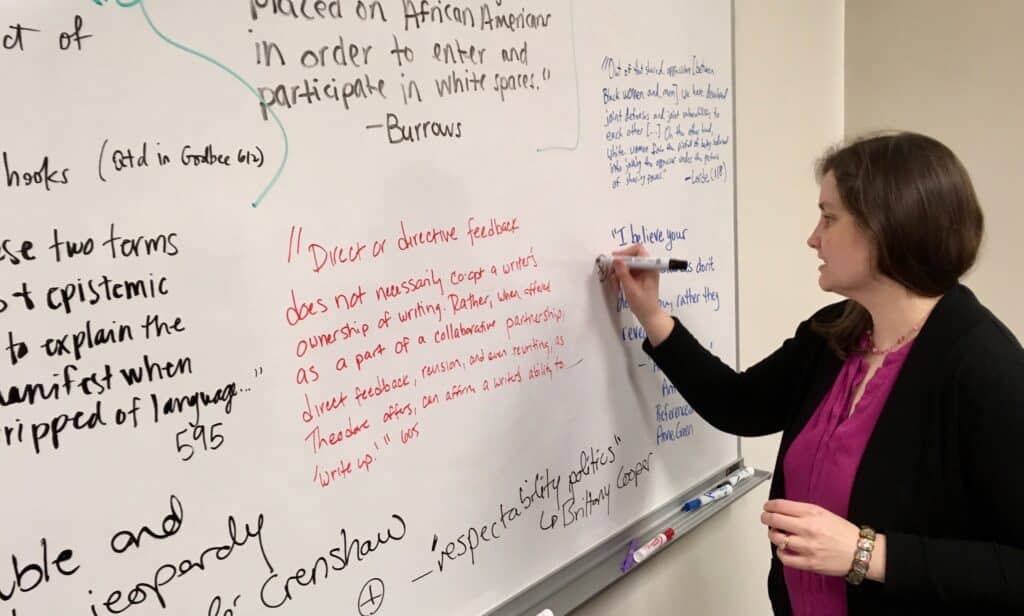 What Will this Practice Entail?
Throughout the practice, you'll have the opportunity to:
Engage in contemplative practices (meditation and journaling, among others)
Receive support for doing self-work, processing difficult emotions, and countering (perceived) white fragility
Articulate commitments that drive everyday decision-making
Set intentions and increase readiness for showing up for racial justice in 2020 and beyond.
What's Included in this Practice?
 This practice includes a workbook, 3 online workshops, and weekly support.
 The daily time commitment varies based on how you'd like to approach the practice. Beth offers a 7-minute meditation and suggests pairing it – or another contemplative practice – with daily journaling, so expect the practice to take around 15-20 minutes per day.
 The workbook includes the following:
 Introduction to the practice and explanation of key terms, including emotional literacies, whiteness, white fragility, and white supremacy.
Guided meditation in both audio and written forms, which can be used daily or swapped out for a practice of your own.
An emotions journal to accompany the guided meditation practice—to be used daily throughout the 40 days.
Lists of emotions to help with expanding emotional vocabulary.
Resource guides, including links to varied contemplative practices, readings, and websites for learning beyond the 40 days.
When do we meet?
This 40-day practice includes an opening Zoom session, 2 in-person Zoom workshops, and a weekly check-in session:
 Opening session to get oriented to the daily practice:
Sunday, September 20

,

 3:30-5 pm (Zoom)
This opening session introduces shared vocabulary, contemplative practices, and intentions/goals for the 40-day practice. We'll look at how our identities and relationships to whiteness position us in the work for racial justice and how we can build emotional literacies (embodied awarenesses, knowledges, intelligences, and response-abilities)—the very things that can help counter perceived white fragility, which is really rooted in not having the stamina for staying with discomfort and slipping instead into defensiveness.
Two 3-hour workshops to connect internal self-work with external action:
Sunday, October 4

,

 2-5pm
Sunday, November 1

,

 2-5pm
Using theatre of the oppressed, we will reflect on what's come up through the daily practice and extend emotional self-work into action (i.e., "taking the practice off the mat"). Together, we'll witness and then stop the re-enactment of troubling scenes, suggest/act alternative resolutions, and rehearse interventions into everyday microaggressions. This process builds readiness for making real-time interventions and equips us to act in our everyday lives for racial justice. (And, yes: this 3-hour workshop will include breaks because we know it's a long time to meet via Zoom.)
Weekly processing groups:
Wednesdays 1-2pm (optional)
Registration includes the invitation to join weekly processing groups on Wednesdays 1-2pm via Zoom. These processing groups are intimate spaces (like small-group coaching) that support reflection, somatic awareness, and grounded re-commitment. Each week we'll have a question to frame the session, taking up themes from the 40-day practice. The format is the same each week: introductions, guided meditation, freewriting, and then conversation. (Note: These groups are open for anyone who registers and so they'll include others engaged in racial justice work in various ways, from various locations.)
Cost:
Early Bird Registration – before September 1: $185
Full Cost: $225
Register here.
About the Practice Facilitator: Beth Godbee, Ph.D.
Bet
h is a researcher and educator (previously tenured professor) who has deep commitments to social
 and racial justice and embraces imperfection while striving for justice.
 Across teaching and research, Beth centers issues of (in)justice, (in)equity, power, agency, rights, and responsibilities. Beth has collaborated with people in and out of academia, including with the YWCA Southeast Wisconsin's Racial Justice Program; America's Black Holocaust Museum; and participants in writing groups, workshops, and e-courses.
 Beth's teaching experience involves years of centering embodied experiences, using contemplative practices, and working one-with-one.
 A white woman committed to unlearning whiteness, Beth also values ongoing self-work, looking regularly at personal questions of internalized inferiority and supremacy and asking about complicity with white supremacy.
To learn more, read Beth's commitment statement. Check out past publications. And reach out with any questions.