Join us for a FREE afternoon family workshop: Family Yoga with Meredith McCullough followed by story time with local author and Lighthouse member Nina Halper.
Saturday September 14, 4-5 pm. Sign up here. (Registration isn't required, but space is limited so we encourage you to sign up in advance!).
Recommended ages: 3-6 years old.
The book: Sabra the Long-legged Goofy (mixed) Saluki
Join the adventures of Sabra, a puppy who traveled halfway across the globe to be adopted by a loving family in Washington, D.C. Based on the true story of the real Sabra, a Saluki-mix rescued from Israel in 2006, this children's book – brought to life with colorful and comical illustrations – takes you on a heart-warming journey as Sabra the Long-legged Goofy (mixed) Saluki  grows from a scrawny puppy into a gentle giant who captures attention everywhere he goes with his large size, soulful eyes and unusual looks.
Sabra's Background
Sabra was part Wolfhound and part Saluki, one of the oldest breeds from the Middle East.  The author, Nina Halper, adopted him from Concern for Helping Animals in Israel (CHAI) an organization that rescues abandoned animals, giving them food, water, medical help, and shelter. In 2006 CHAI rescued the puppies from the Hezbollah conflict in Israel.  While many of the animals were reunited with their families in Israel, 39 of the rescued puppies were brought to the U.S. in search of a peaceful life and loving families.
About the Author
Born and raised in Washington, D.C., Nina Halper is an award-winning bilingual, multimedia producer, public health educator and storyteller.  Of mixed Indian and Jewish heritage, Nina has always been a global explorer;  it is only fitting that her "four-legged boy" Sabra traveled overseas into her life.  She is also a proud mom to her "two-legged boy" Rafael who loved to pull on Sabra's fluffy tail and chase him around the house, despite his towering size.
Nina wrote this story to bring to life the quirkiness she experienced as the mother of this gentle giant.  She truly was stopped on the street every day by curious passersby to learn more about the unique and beautiful creature.  Nina supports animal rescue and rights organizations and will use the book and Sabra's story to promote animal adoption.  
After a near year-long battle with cancer, Sabra passed away in July of 2017.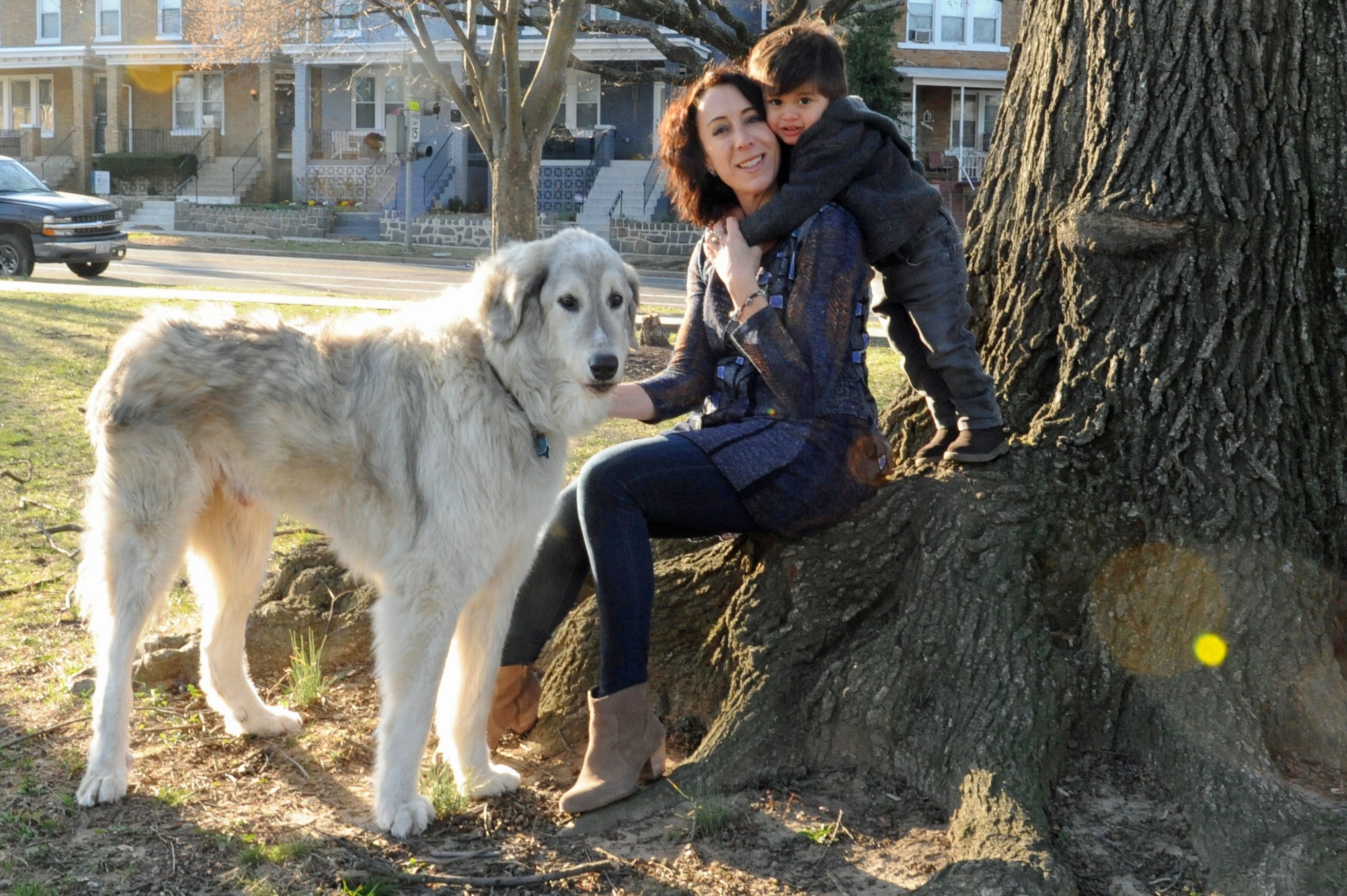 The Yoga: Family Yoga Playtime
Join Meredith McCullough for a fun "demo" family yoga class. Meredith teaches family yoga at Lighthouse with Breathing Space on Saturday mornings, and will be kicking off a new Baby and Me Yoga series on Friday mornings.
Meredith is a long-time DC-based yoga instructor, who's adult classes are infused with humor and creativity, and who brings a unique level of fun and play to her children's classes. As a parent of two young boys, Meredith understands the needs that little ones have for movement and connection, and she makes sure every student – whether 3 years old or 70 years old – leaves with a smile on their face.