Lighthouse is Now Offering Online Yoga for Kids
In response to community requests, starting Tuesday March 24, we're launching 2 weekly online kids yoga classes!
Tuesdays and Thursdays from 3-3:45 pm
Ages: Approximately 4-7 years old. Siblings are welcome – yoga benefits children of all ages! But the target age for the class will be early elementary school.
How it works
The cost is $25/week per family, on recurring billing. Families with a Lighthouse membership pay $15/week – members, email us for your discount code. No limit to the number of family members or friends (as long as staying healthy) in each class.
Classes will be recorded and sent out to registered families approximately 24 hours after the class. We ask that these recorded classes not be shared. The Zoom recording system maintains confidentiality of participants.
You can cancel your membership at any time, but please allow 48-hours notice.
What People are Saying about our Online Classes
"Thank you! I was finally able to get in a class tonight. Just what I needed. Thanks so much for doing this! This busy, frazzled Mom really appreciates it." – AG, 3/18/20

Here's how it works:
Kids classes meet on Tuesdays and Thursdays from 3-3:45 pm.
You'll be automatically enrolled in both classes each week and will receive a link to a Zoom "Meeting" before each session.
Have your kids ready(ish) to go and have fun.
Class recordings will be sent out to participating families approximately 24 hours after each class. 
Two things to do in advance:
You'll have to download Zoom and create an account BEFORE your first class.
Make sure your subscription settings in our check-in system are ALL set to ON (see below for more info on this!).
Please follow the steps above to register and check your email 15 minutes prior to the start of class to get logged into Zoom.
We thank you from the bottom of our hearts for your ongoing support.
Looking for classes for the toddler set? Please contact our partners at Breathing Space DC.
Meet our Teachers
Meredith McCullough –  Meredith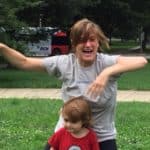 began her own yoga practice over 15 years ago – first to get a little exercise and later to try to find sanity and balance despite a stressful job as a consultant. She stuck with yoga thanks to a welcoming and vibrant yoga community.  She has continued to grow and share her love of the practice ever since. When her first son was born in 2013, she started to take infant, then toddler classes, and her family has continued the journey together. Meredith carries a sense of playfulness into her classes for both children and grownups, and is excited to share with students of all ages the joys and challenges that yoga reveals both on and off the mat.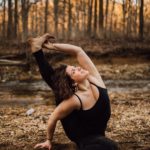 Roni Zelivinski –  Roni Zelivinski first found yoga at the age of fourteen. Growing up practicing rhythmic gymnastics, Roni found tremendous value in dedication, passion, movement and artistic expression. After having to quit due to a back injury, yoga was the first practice that felt like it was igniting the flame within her. Roni sees yoga as way to begin again, with forgiveness and gratitude for who we are and where we are going. In addition to teaching Vinyasa Flow Yoga , Roni is also a Certified Educator of Infant Massage, a Doula, a children's yoga teacher and Registered Nurse. She received her children's yoga training in 2013 through YoKid and was the co-director and creator of extendYoga's weeklong Kid's Yoga Camp for several years. Roni is currently in her last semesters of graduate school for Certified Nurse Midwifery at the George Washington University. She loves the rain, 90's R&B, dark chocolate, and sparkly things.  She looks forward to seeing you on the mat!
Not Getting the Zoom Links?
It's important that ALL of your communication settings in our system are set to ON (except texting, as we don't do that right now.)
So your account settings should look like this: 
Still not coming in? Email us and we'll see what's up with your account.