Are You Ready to Level Up?
Now is the time.
Now is the time to take your practice out of your body and into the world.
Now is the time to transform your intentions into lasting impact.
Now is the time to awaken.
Are you a yoga teacher

who's reckoning with racial unrest and feeling stuck…stuck doing the same poses, chants, and meditations but unable to show up in the current racial climate in a way that feels authentic to you?

Do you wish to "be the change" but have no idea where to start, how to start, or even if you

really

want to start?

Do you flounder between "just focusing on the yoga" and feeling guilty because you're unsure how to address issues of racial justice in your yoga space?

Do you just want to understand the relationship between yoga and racial equity once and for all?

Are you ready to do the hard work?
If so, this training is for you.
We meet on 5 Thursday evenings, 7-9 pm. October 29 – December 3 (no class on Nov. 26)
Cost: $325. Register here.
What's This Training About?
The days of being a "good" yoga teacher just by showing up with a complicated sequence and a fancy playlist are over. Our world is shifting and it needs yoga teachers to show up BIG now, more than ever. Our world is full of racial tension, hope, confusion, guilt, racial trauma, and grieving, and yoga spaces are not exempt. They are a microcosm of what's happening in the world so you need more tools…more ways to share the transformative power of yoga to everyone you meet, no matter what race they are. 
It's time to take your practice off of your mat and into the world…YOUR world by having real conversations about race relations. It's time to use your voice for change. Are you ready to level up?
This virtual immersion will empower YOU to use your practice and voice to show up in the world, ready to serve rather than avoiding the complexities of race by spiritual bypassing. To teach and practice yoga inclusively, you need new skills, new conversations, new perspectives, new self-awareness…you need mindful racial equity training. 
Join Dr. Monea, Racial Justice Educator/Speaker and 500-hour Certified Yoga Teacher, for 5 weeks to take a deep dive into the realm of racial justice. Each week, we're going to do a deep dive into challenging and complex race-related topics and material through small group work, group discussions, journaling, lectures, meditation, videos, and podcasts. We'll use the 3 R's- reflection, relationships, and resilience to do racial equity work the mindful way.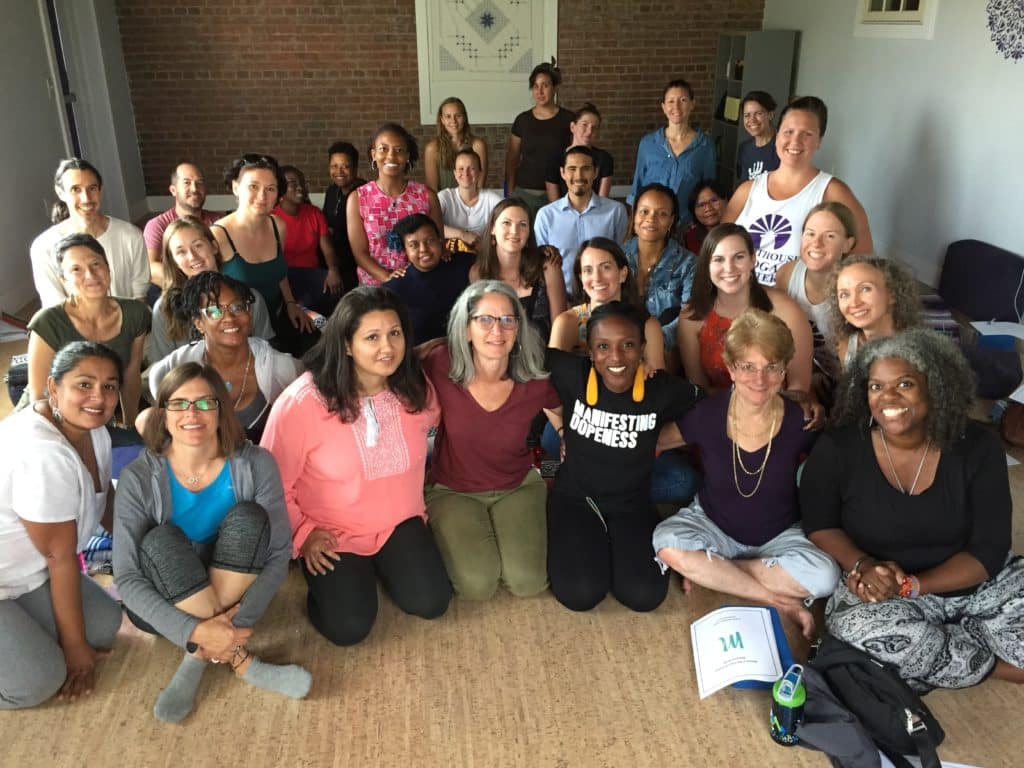 Program Details
We ask everyone to show up with an open mind and an open heart. Discomfort is normal, and we encourage you to work with that as we move through these important themes. Here's the plan:
Week 1: Introduction to Antiracism

This session provides shared language around race, racism, and antiracism. It is the foundation of the program. We can't talk about racism until we speak the same language.
Week 2: Antiracism and Me

 This session examines your implicit bias. It will empower you to dig deep into your innermost self to uncover and heal your biases. This deep look within is essential to doing antiracism work, authentically.
Week 3: Antiracism and Yoga

This session explores the relationship between antiracism and yoga. Learn what yoga philosophy has to say about racial justice and how to approach racial justice work.
 

Week 4: Antiracist Teaching and Practicing Yoga

This session will help you identify tangible changes to  make your teaching and practice more inclusive. You will leave this session with things you can do immediately, within 30, 60, 90 days and beyond.
Week 5: Creating Racially Inclusive in Yoga Spaces 

 This session will guide you on how to make your yoga space (virtual or brick and mortar) more racially inclusive. If you are not a teacher or studio owner, this session will help you discover ways that you can  make your personal yoga space more racially inclusive.
Dates: 
Thursday, November 5, 7-9pm
Thursday, November 12, 7-9pm
Thursday November 19, 7-9 pm
Thursday, October 29, 7-9pm
Thursday December 3, 7-9 pm
 Cost: $285 early bird until September 30, $325 full price This training is worth 12 CEU's for Yoga Alliance. Open to all yoga teachers and teacher trainees. Register here.
Thanks to the generosity of our Lighthouse community, we have a few partial needs-based scholarships available. Please email us for details.
This program is co-sponsored by Lighthouse Yoga Center, Sun and Moon Yoga Studio, and Flow Yoga Center. 
About Dr. Monea
Dr. Monea Abdul-Majeed is a Racial Justice Speaker, Trainer, and Certified Yoga Teacher based in York, PA. She serves as Racial Justice Coordinator at YWCA York, where she is responsible for leading the organization and York community to racial equality through training, community events, and involvement with York school districts.
Dr. Monea has over 15 years of experience in organizational leadership, statistical analysis, training, project management, and professorship. She received her bachelor's degree in sociology and politics from Washington and Lee University in 2004. In 2010, she earned her doctoral degree in Sociology and Political Science from Howard University, where her concentration was Social Inequality (Race, Gender, and Ethnicity) and Urban Sociology. Her dissertation title was, "A Historical Materialist Analysis of the Shifts in African American Family Formation, 1960-2008."  
She was a federal government employee at the U.S. Census Bureau from 2001-2016. During her tenure there, she worked in many different area including Ancestry and Ethnicity, Workforce Development, Job Rotation, Organizational Climate, Poverty and Health Insurance Estimates, and Risk Management. She earned her Master's Certificate in Project Management from George Washington University in partnership with the U.S. Census Bureau. While at the Census Bureau, Dr. Monea earned the Bronze Award, which is the highest award given, for her work on the Small Area Health Insurance Estimates and Small Area Poverty Estimates data collections. She also served as the Project Manager for the organizations first organizational climate survey. 
She has been a professor at Montgomery Community College in Maryland, Trinity Washington University, and HACC. Dr. Monea has taught Introduction to Sociology, The Family, Urban Sociology, Research Methodology, and Work and Society, and Research Writing. 
Dr. Monea is a 200 hour registered yoga teacher. She is currently pursuing her 500 hour certification in the Vinyasa style of yoga. She has been a dedicated student of yoga for 16 years and uses her knowledge of mindfulness to inform her racial justice work. A D.C. Native, she currently lives in York, PA with her husband, Musa Abdul-Majeed, and their three children, Lailah (5), Zainah (3), and Amir (1).