Start the new year with new healthy habits. Yoga reduces stress and helps you boost your immune system, which creating connections (even virtually).
If you're looking for a way to jumpstart a yoga practice, this beginner yoga series is perfect for you!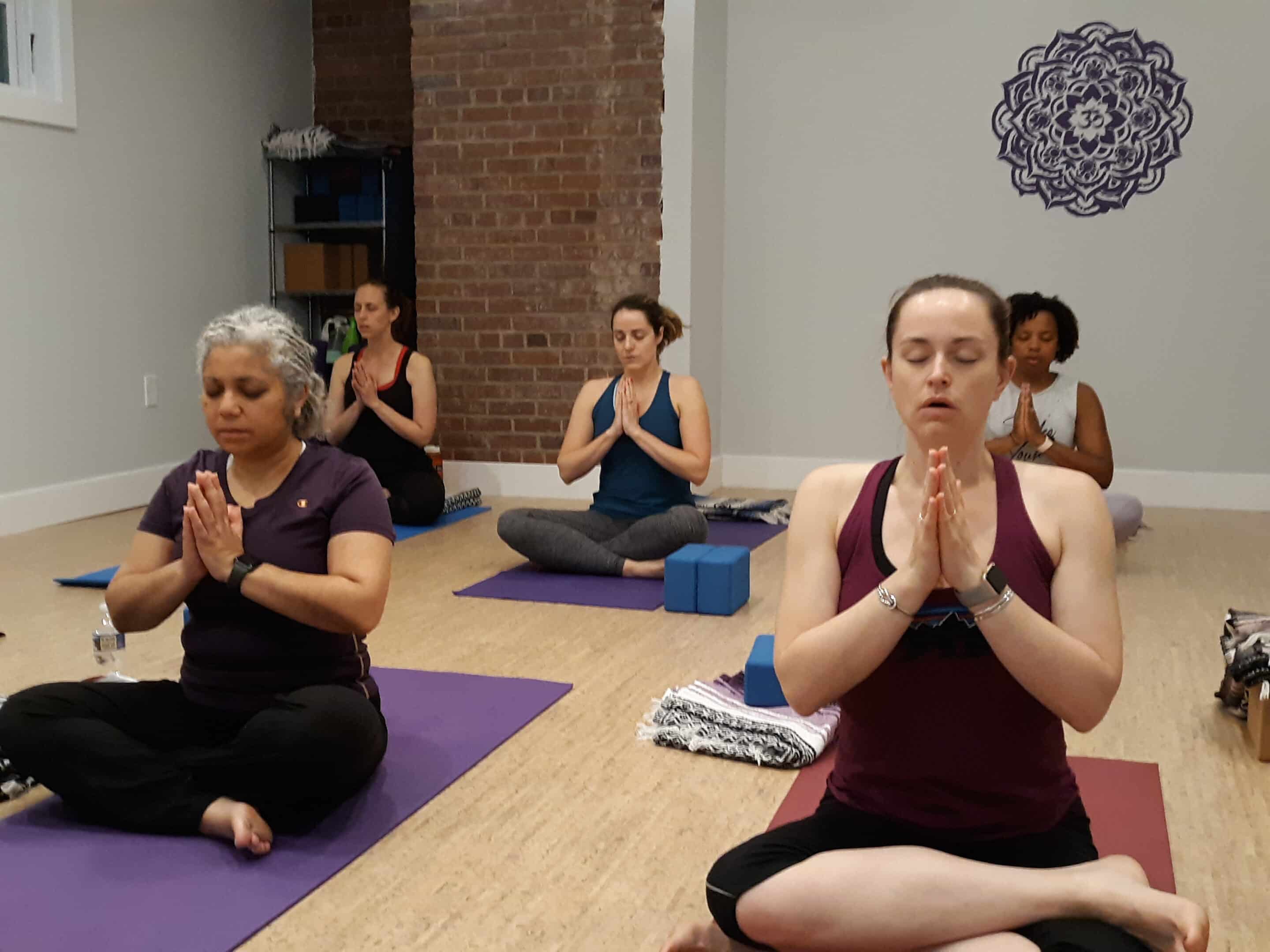 Join us for this 6-week ONLINE course to learn the basics of yoga with Meredith McCullough
– Beginner series starts on January 12. $100 for the full 6-week series. Register here.

Tuesdays 6:15-7:30 pm

Teacher: Meredith McCullough
Yoga is a proven way to lower stress, boost the immune system and build community (yes, even online!). It's never too late to start a practice – and there's no better way than joining our 6-week Yoga Fundamentals Intro Series.
The class meets weekly with teacher Meredith McCullough and will cover the basics of a safe and effective yoga practice. Meredith will introduce you to breathing techniques that lower stress, simple standing and seated postures that build flexibility, and the building blocks for a simple Hatha Yoga practice that you can incorporate into your daily life.
$100 for the full series, which includes weekly video homework. Register here. (Members save 25% – email us for your discount code!).
What is this Course About?
Lighthouse Yoga Center offers this unique course as a way to present the basics of a yoga practice in a friendly and supportive environment. Teacher Meredith McCullough excels at creating community and building comfort in yoga.
The program offers a step-by-step introduction to the physical basics of yoga, starting with grounding poses and then building from there.
Yoga Fundamentals one of our most popular offerings and we invite you to take advantage of this 6-week course to jump-start your practice.
This class is a wonderful introduction to the building blocks of Hatha Yoga, so you can deepen your practice safely and effectively.
What Will I Learn?
Students will learn the basics of a yoga class, including:
**Fundamental poses to increase strength and flexibility.
**Safe and effective transitions from one posture to the next.
**Practices to create deeper awareness on and off the mat.
Each week will build upon the one before, so students are encouraged to attend all 6 weeks to maximize your experience in the series. Attendance in this series will ease the transition for newer students into our "Basics" Yoga classes, as well prepare you for Mixed Level and Kundalini classes. No flexibility is required!
Please note that we don't offer make-ups for this series. If you happen to miss a session, you can use the video homework to help you keep up with the material.
What people say about Yoga Fundamentals
"I always liked the *idea* of yoga way more than the actual classes, and it was amazing to be in a class where we could ask all the questions we wanted. I instantly fell in love with the studio and the vibe- so unpretentious and REAL." — LM, 10/2015
"Meredith is EXCELLENT…just thinking about how she was able to individualize and make modifications based on each of our fitness levels…TRULY AWESOME. I am grateful." — KW, 7/18
Yoga Fundamentals is featured in Petworth News!
Check out the article here.
Things to know:
No drop ins please! Series passes only.
New student passes and unlimited class passes are not valid for this offering.
Monthly members save 20%. Email us for your discount code.