Julie Eisenberg
E-RYT500, Owner/Director, LYC
Julie Eisenberg started practicing yoga in the mid-1990s as a way to decompress from a stressful job. Over the years, as her practice deepened and evolved, she began to understand yoga as a tool of personal transformation and empowerment. She is a Kundalini Level 2 Teacher and Professional Teacher Trainer with the Kundalini Research Institute (KRI), with advanced certifications in therapeutics and other modalities.
Julie opened Lighthouse Yoga Center in 2013 in her home community of Petworth, DC as a way to share the teachings of yoga with the residents of her diverse neighborhood. Outside the studio she has taught yoga to DC's homeless population and low-income Spanish-speaking immigrants in Washington, DC and is involved in many community and civic organizations. Her classes, retreats and trainings are energetic, spiritual and often powerfully transformational.
Julie is thrilled to be part of the amazing Lighthouse community and is grateful to everyone who has supported us through the years!
Jazmín González Moya, RYT-200 and Studio Manager
Jazmín's classes are a combination of Sivananda flow and her own personal experiences and learnings throughout the years as a former professional ballerina. Her class starts with a series of Pranayama (Kapalabati and Anuloma Viloma breathing exercises), continued by a flow of a structured combination of asanas (postures). She offers her classes in English, Spanish and French, and will be ready to teach a multilingual class anytime it's necessary. 
Her class is based on an easy-to-learn method of all the traditional poses (with modifications from beginner to advanced) to help develop a healthy-strong body and enhance flexibility, both in mind and body. Since yoga arrived to her life, she has found another way to thrive and to share her passion of teaching others, she loves to help her students to discover they can do a lot more than they think they can with a safe method of encouragement. 
Jazmín migrated to yoga after more than ten years as a professional ballerina and ballet teacher. Once she discovered yoga and started feeling the benefits, both physical and spiritual, of the practice, she dove in to explore different techniques. Moved by her passion to learn and teach, she completed her teacher's training course at Sivananda Ashram Yoga Camp in Montreal in 2017.
Tara Lemerise
Tara took her first yoga class for college PE credit in 1999 and it was (cliche but true!) love at first down dog. She went on to complete teacher training at Willow Street Yoga Center in 2005 and has taught over 5,000 hours of yoga since then. She is best known in the DC area for her highly praised continuing education Restorative Yoga Teacher Training program and her Restorative Yoga weekend retreats. In Tara's weekly classes you can expect clear, encouraging and lighthearted instructions that will help you explore poses and sequences in new and interesting ways. Whether you are brand new to yoga or have been practicing for many years, you will find just the right amount of challenge and inspiration. Everyone leaves her classes feeling empowered, joyful, and grounded. To learn more about Tara, visit her website: www.taralemeriseyoga.com.
Abby Dobbs
Abby Dobbs is a yoga teacher, bodyworker & energyworker, and teacher of teachers who gives individuals the tools to lead their most empowered and fulfilled lives. A naturally anxious person, Abby found that yoga, more than anything else, gives her the tools for a peaceful, grounded life.
Abby completed her first 200-Hour Yoga Teacher Training with Ana Forrest in 2008 and has continued chasing her passion through additional trainings Yogaworks with Natasha Rizopoulos, Rocket Yoga with David Kyle, Forrest Yoga, and Yin Yoga. Abby is continuously captivated by the inner-workings of the body, and how each individual's body receives healing.
As a long-time yoga practitioner, bodyworker, and energyworker, Abby has a uniquely holistic view of physical anatomy, energetics, and movement that she weaves into her classes, workshops, and ceremonies. Off the mat, Abby loves to read fantasy novels, cook and bake vegan food, and snuggle her two fabulous cats – Kitty Boo & Billy.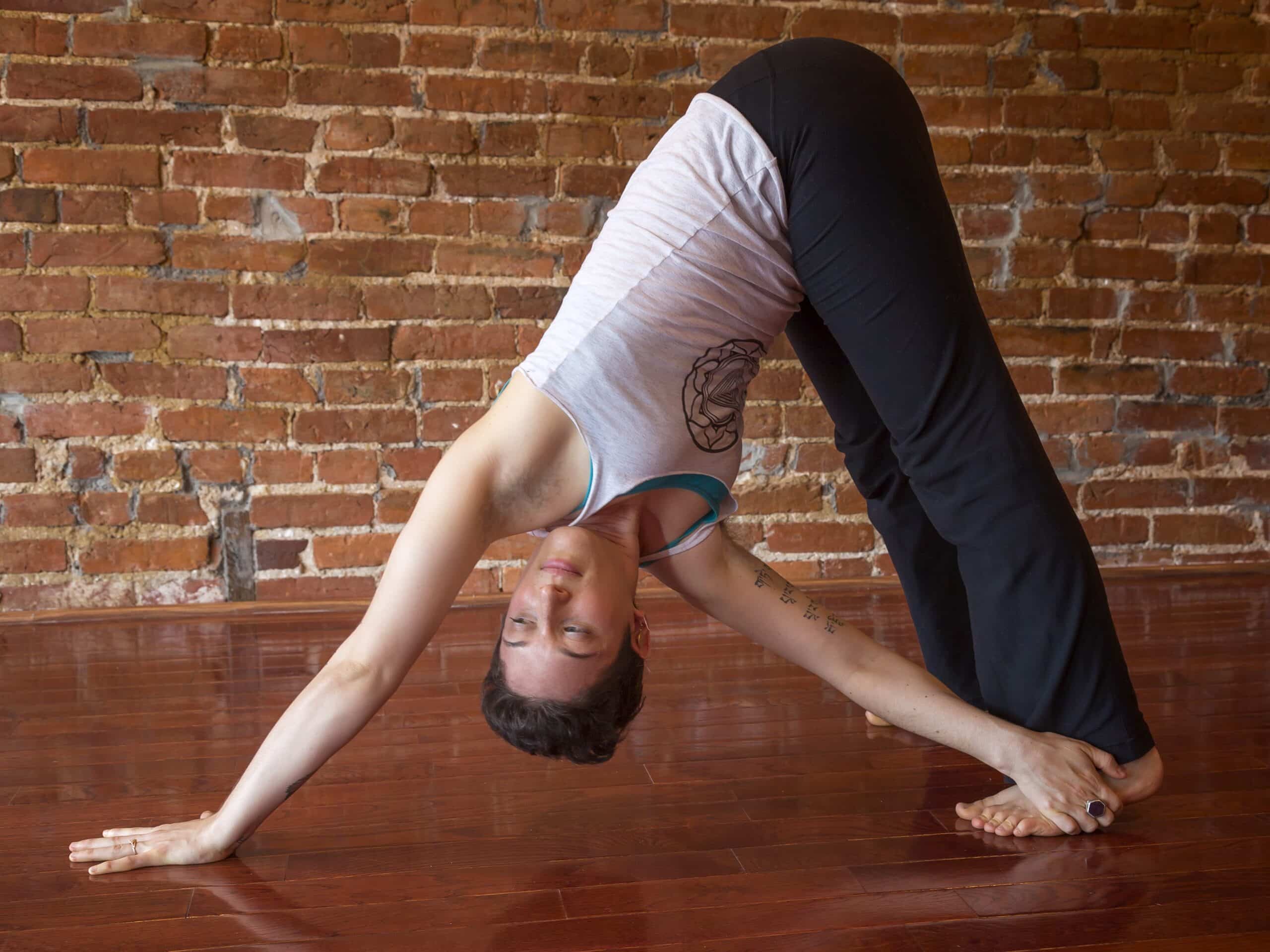 Emily Moore
RYT-500
Looking for a strength building workout on a fall morning in 2008, Emily accepted the invitation of a friend to attend a yoga class. She began attending yoga classes regularly because—as many yoga students quickly discover–it felt so good. Somewhere along the way the age old practice began transforming her body and mind in ways that she didn't even known to ask for but for which she is immensely grateful.
Emily eventually left behind a career providing community level legal and social services so that she could dedicate her time to practicing and sharing the science of yoga. In classical yoga she found practices that have the potential to bring individual and social well-being by addressing the very root of our inner source of turmoil and suffering. It is a pleasure and honor for Emily to share these timeless techniques and to attempt to walk a yogic path in her own life.
Emily is a full-time yoga teacher with over 1000 hours of training in yoga techniques including asana (poses), restorative yoga, yoga nidra (deep relaxation), meditation, pranayama, energy healing, and yoga philosophy. She is also dedicated to a daily self-guided study and practice on the mat and in the world. Emily brings a warm and steady tone to her classes, and finds great joy in seeing students leave with a greater sense of mental and physical space and increased access to the inner source of knowing.  Emily's classes are inspired by her teacher Dharma Mittra and what he has shared with her from his 50+ years of teaching yoga. 
Nandi Gabremedhin
Nandi Gabremedhin is a KRI Level 1 Kundalini Yoga Instructor, graduate of Lighthouse Yoga Center's KRI Teacher Training Program. Nandi took her first yoga class more than 11 years ago in a Saturday program at her son's school. With that first class she felt more positive, peaceful and happy and then found a place to take regular classes. As her practice developed, she felt there was still something missing – she wanted to learn to meditate, which led Nandi to Kundalini Yoga & Meditation.
Initially she thought she'd just take classes for herself, but then knew fairly soon she wanted to become a teacher to share the benefits of which she so abundantly received. Through her own practice and teachings, Nandi found that Kundalini Yoga has been a way to dig deeper and uncover more of herself and her own power, becoming more focused and disciplined in developing her spirituality. With life and all that comes, the maintenance must continue, which is the main reason Nandi keeps her practice strong. Kundalini has allowed her to truly see more and has allowed for more uplifting connections with others a more enriching one. Nandi's classes facilitate experiences for individuals to find their own power, overcome personal challenges, shed the old skin and grow anew by uncovering the divine energy within and illuminating peace, light and love that inspires others thru example and energy.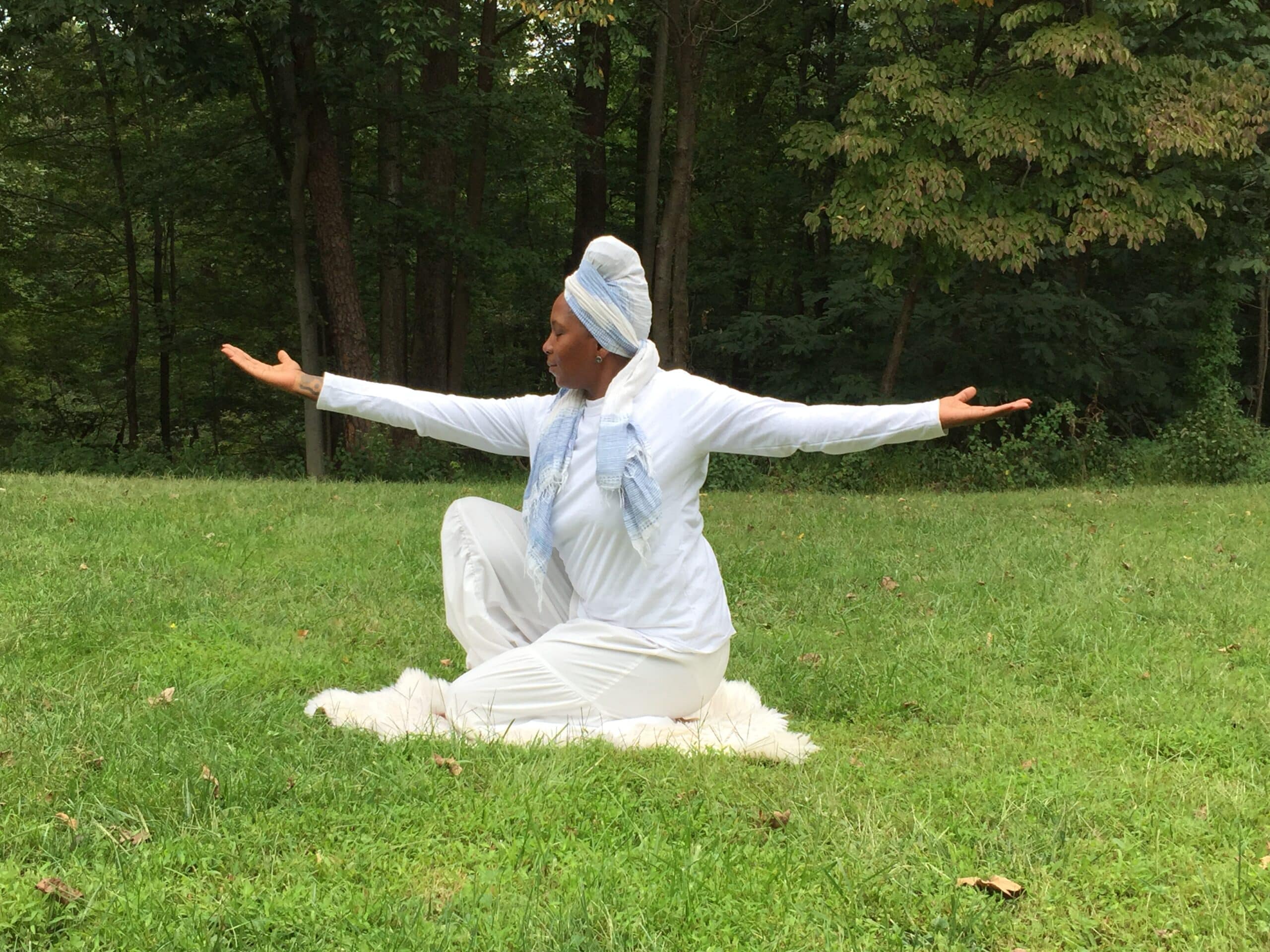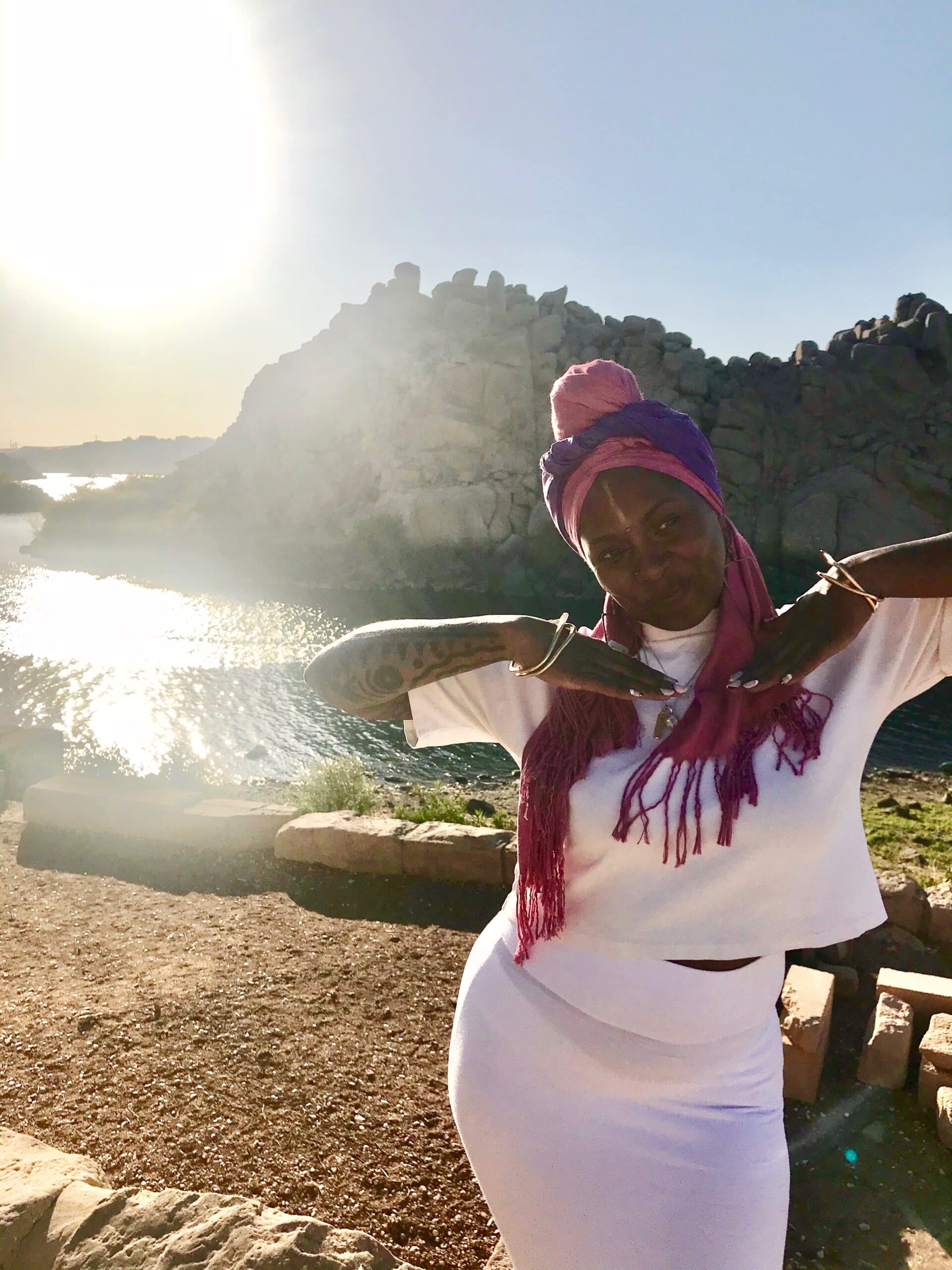 LeShone HoSang Navies (Jai Hari Kaur)
 L​eShone Jai Hari Kaur is a certified Kundalini yoga instructor who promotes courage, grace, and balance on and off the mat. LeShone Jai has been certified since 2007 and has practiced yoga for over 20 years. She has taught yoga to babies, youth, and adults in birth centers, yoga houses, and the Saba Sanctuary, her family's tutoring and fitness space in southern Maryland. LeShone Jai teaches a physically invigorating and mentally stimulating JaiYoga class experience!
Meredith McCollough
Meredith began her own yoga practice over 15 years ago – first to get a little exercise and later to try to find sanity and balance despite a stressful job as a consultant. She stuck with yoga thanks to a welcoming and vibrant yoga community. Early in her practice she was drawn to an alignment-based school of teaching, connecting to a clear and thoughtful way of articulating poses, an invitation to participate fully and creatively in everyday life, and the fact that laughter on the mat was not only tolerated, but encouraged.
Meredith has continued to grow and share her love of the practice ever since. When her first son was born in 2013, she started to take infant, then toddler classes, and her family has continued the journey together. Meredith carries a sense of playfulness into her classes for both children and grownups, and is excited to share with students of all ages the joys and challenges that yoga reveals both on and off the mat.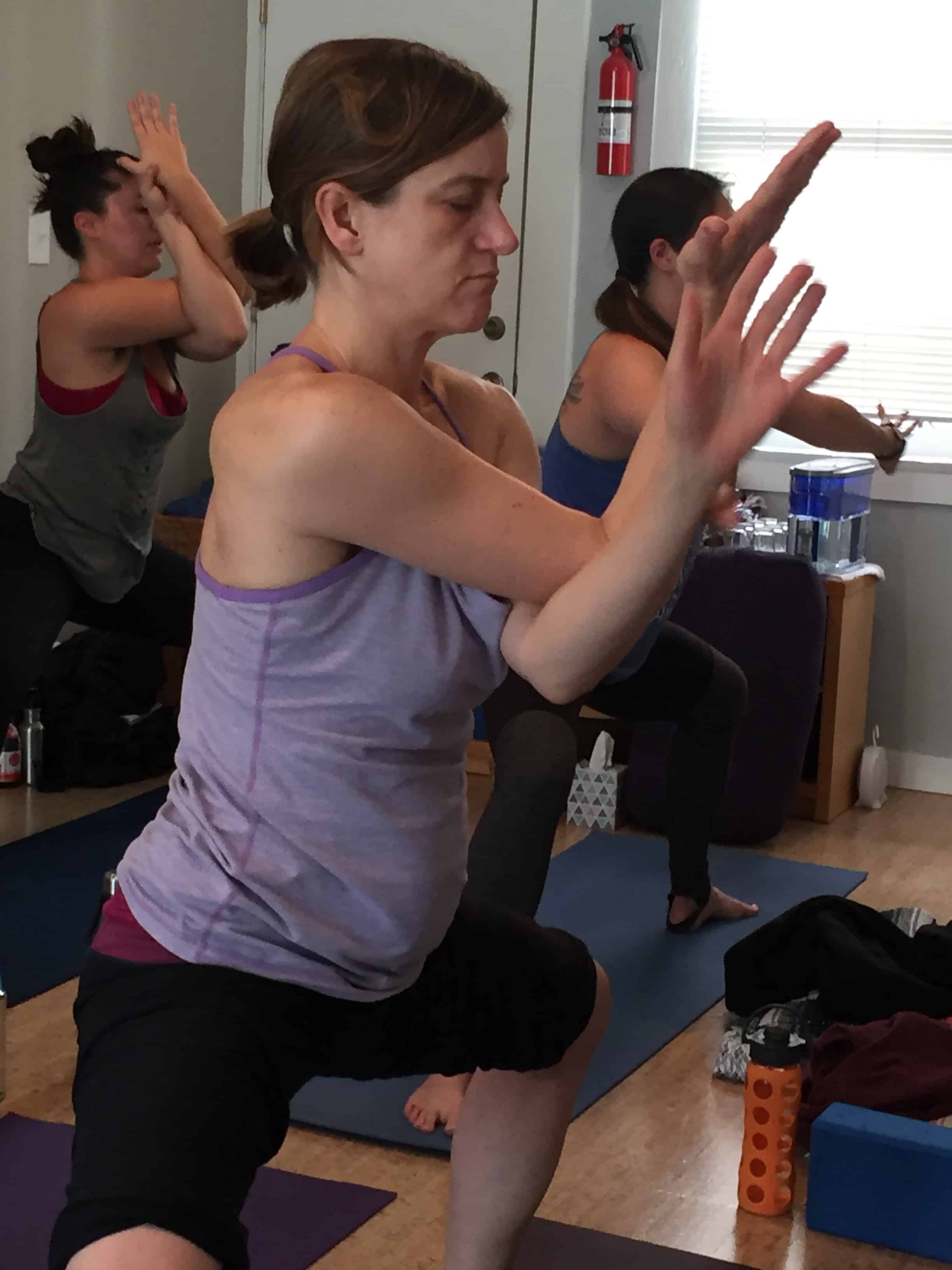 Kati Gimes (Ajeetdev Kaur)
RYT-200
A yoga teacher for more than 14 years, Kati has practiced, studied and taught a rainbow of yoga traditions including hatha, vinyasa, and Iyengar. Through her yoga journey, she has developed her own unique teaching style that focuses on connection to the breath and attention to alignment. She addresses the individual needs of each of her students, creating a challenging but safe environment for everyone to experience the physical, emotional and spiritual dimensions of yoga.
Kati has a deep commitment to the practice of Kundalini yoga, and is a Level Two Certified Teacher by the Kundalini Research Institute (KRI). She has also studied yoga therapy with Mukunda Stiles and completed an in-depth course on Ayurveda.  In addition to private clients, she teaches at local yoga studios, corporations and government agencies including the National Institutes of Health. Kati's goal as a yoga teacher is to channel her enthusiasm and energy to empower others to live a life with peaceful minds and hearts filled with love. She believes that through a committed practice, people can get in touch with the essence of who they really are.
Rebecca Henry, RYT-200, RPYT
Rebecca's journey with yoga and meditation began more than twenty years ago when she took precepts with the Zen Buddhist Society of Compassionate Wisdom, finding that a vigorous yoga practice was the only way to keep her chattering mind quiet on her meditation mat. As those practices expanded into helping her with the stresses of school, and, later, work and family life, she has been exploring the benefits of her practice on and off the mat ever since.
Forever a student, Rebecca brings a beginners mind and an awakened heart to her practice and teaching. Compassion, empathy, humor and joy are at the core of all of her classes. Her focus is on alignment and mindful movement with breath in both a traditional hatha as well as vinyasa style.
Rebecca completed her 200 hour training at Willow Street Yoga in Takoma Park, MD, pre and post natal yoga teacher training with Debra Flashenburg of the Prenatal Yoga Center of New York City and is certified with Leslie Howard in Pelvic Floor Yoga™. She has also done training with Tara Lemerise in Restorative Yoga. As a mother of two young boys, she is impassioned to support other women in their journey into motherhood through the mindfulness and body-centered practices of yoga and meditation. As birth and postpartum doula, she emphasizes childbirth education and body awareness in her pre and postnatal classes, bringing these practical aspects together with a warm, nurturing teaching style.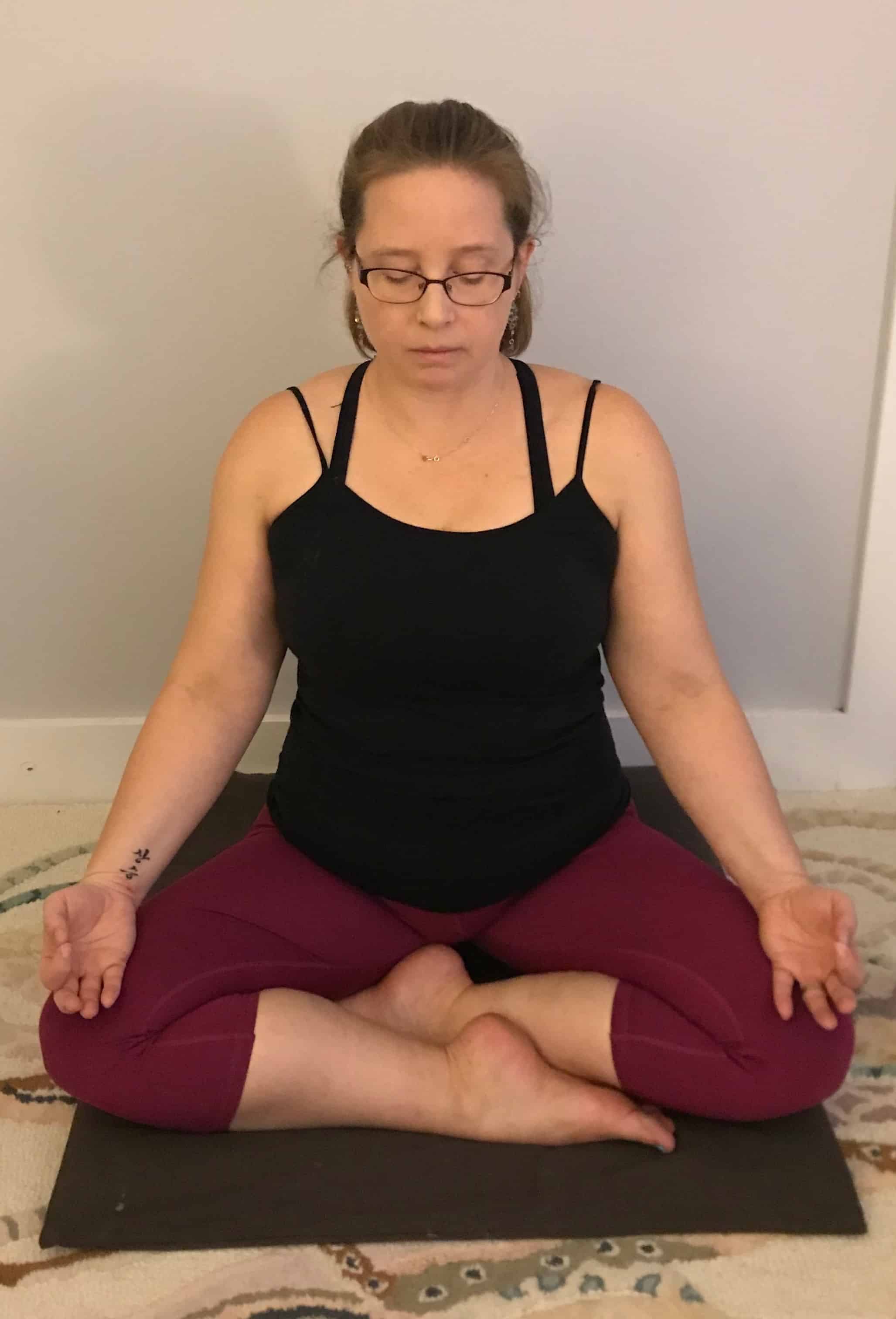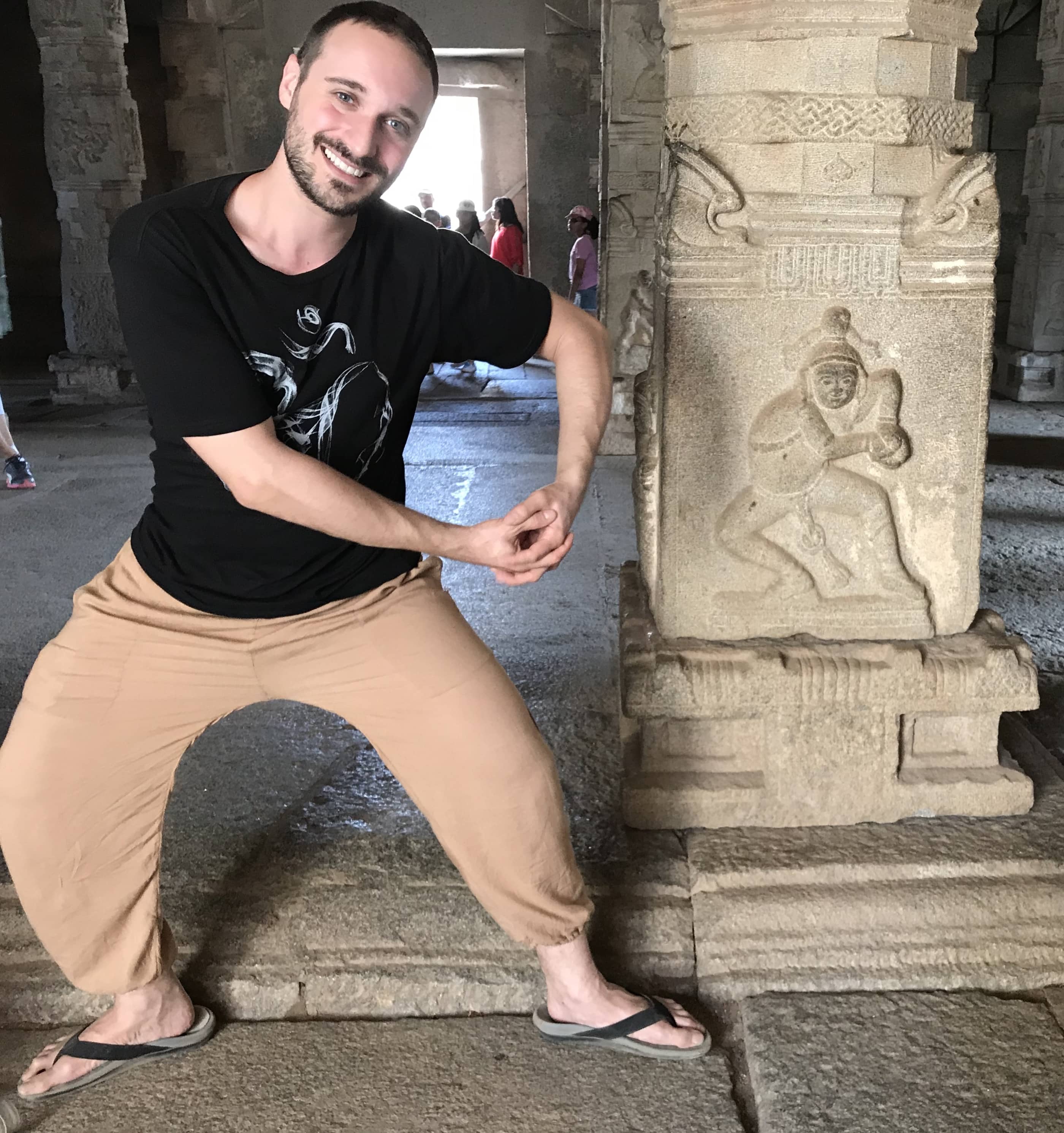 Evan Faber
When Evan was dragged by a former girlfriend to his first yoga class in 2010, he was just hoping to get some exercise and maybe relieve some muscle pain. What he found was SO much more: a profound awakening to the power of linking breath and movement to calm the mind and heal the body. Evan's yoga journey has weaved through a range of styles, including Hatha, Vinyasa, Ashtanga, and Forrest. After completing his 200hr Teacher Training with Abby Dobbs in DC, he began teaching in 2017 to share his love for yoga as a way to feel the body, move energy, and let go of patterns that don't serve us so we can make choices that are in alignment with our "highest self." Evan's classes are inspired primarily by Forrest yoga, blending flows, holds, deep breathing, and bodywork, with intentions rooted in yoga philosophy that we can practice on the mat and take with us into everyday life.
Colleen Brisport Sequeda
Colleen is a devoted yogi, lawyer and  labor and human rights advocate. She believes in the power of yoga to create social change and harmony. Her yoga classes seek to open the hearts, minds and inner intelligence of her students to realize the positive impact and peace that they can have in their own lives and in the world around them. Colleen has practiced Forrest, Kundalini and Hatha yoga for over 10 years. She is constantly enhancing her skills and loves being part of the Lighthouse community.
Kathi Berry
Kathi has been a dedicated meditation and yoga student for over three decades. She believes that the power of yoga is in connecting the breath and the body in mindful movement. Kathi completed her RYT200 training at the Willow Street Yoga Center in Silver Spring MD. She teaches an alignment-based Hatha yoga flow class and endeavors to make the practice accessible to all bodies.  Kathi's classes focus on connecting our breath with our bodies, and she will help you make adjustments and/or use props as necessary to enhance your experience in the yoga poses.
Hillary Johnson (Tera Kirti Kaur)
Hillary first discovered yoga when she was 16 and explored Hatha and Vinyasa before falling in love with Kundalini in 2013. She completed her KRI Level 1 certification in 2017 and Yoga for Youth teacher training in 2016. Hillary is passionate about sharing her love of yoga with others and enjoys discussing the unique experiences that happen on the mat and as the practice starts shaping other aspects of daily life. She sees yoga as both an escape from the pressures around us and a way to connect with ourselves and with the world around us in a different, deeper, and more spiritual way. In addition to her daily yoga practice, Hillary draws inspiration from her family—in particular her son, Elom—bike rides, and walks in nature.
Kristina (Karuna) Maze
Kristina (Karuna) Maze is a longtime Petworth resident and yoga instructor with years of experience teaching beginner-, intermediate-, and advance-level students. In her classes Karuna emphasizes traditional asanas (poses), pranayama (breathing exercises), and meditation/relaxation techniques. She weaves elements of Sivananda, Ashtanga, Iyengar, and Jivamukti yoga styles, as well as modifications to poses, into her classes. For the past decade, Karuna has hosted yoga satsangs, where she leads chants (kirtan) and cooks a glorious feast of vegetarian fare–usually with ingredients grown in her gardens.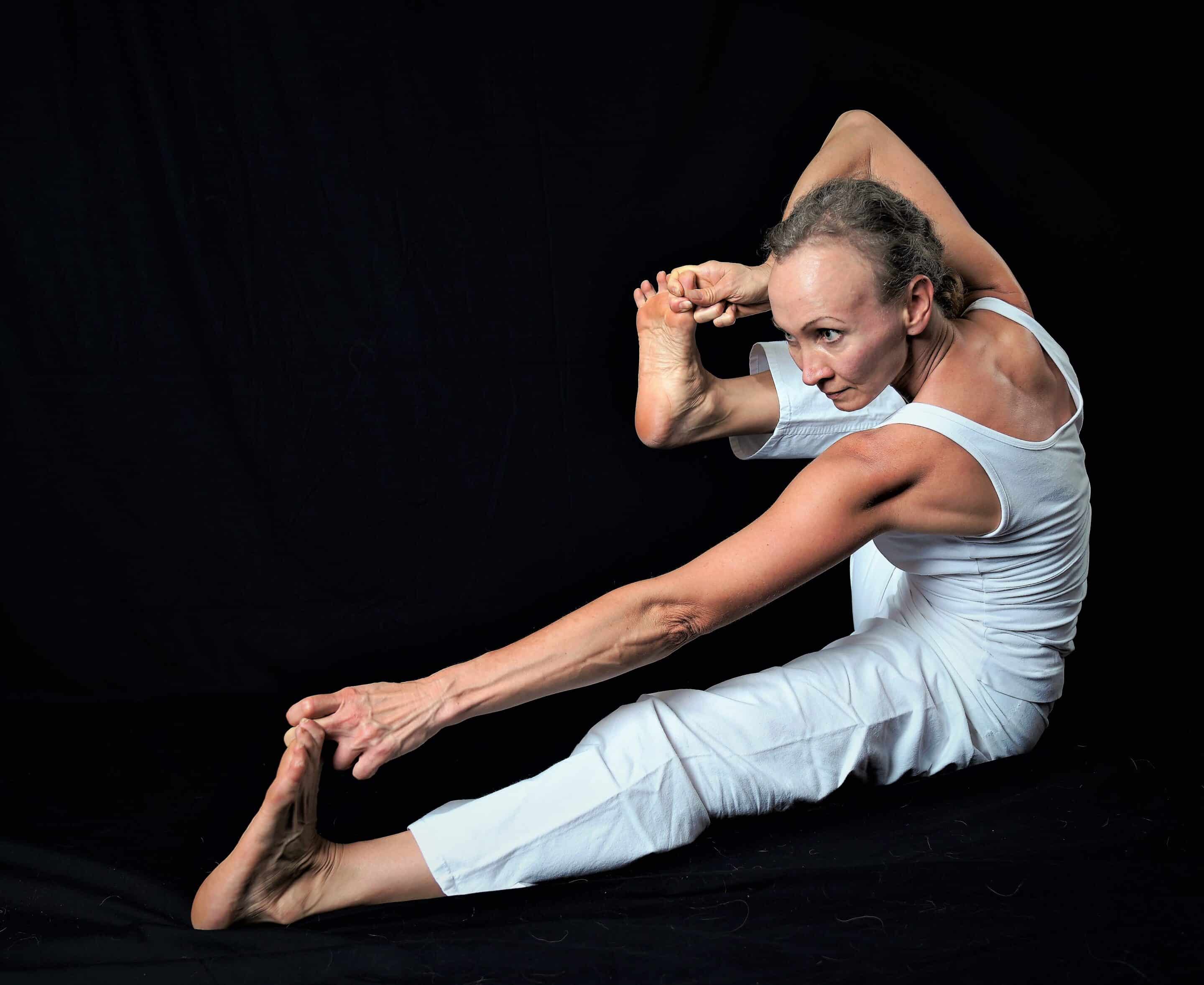 Nikki Haley
Nikki is on her way to becoming a Level 1 Certified 220 Hour KRI Kundalini Yoga Instructor through Lighthouse Yoga Center. Nikki took her first Yoga class in the early 2000's and was instantly hooked. After falling in love with Vinyasa and Hatha, she figured she would just focus on those 2 forms of Yoga.
However, four years ago, Nikki stumbled upon Kundalini Yoga while pregnant with her son. She instantly fell in love with the practice. She felt the need to immerse herself into the practice a bit deeper. It was an annoying feeling that would not go away. Nikki has had the privilege of doing direct community service and non profit work for a variety of populations for the past 9 years. In her heart, she believes that the magic of that work deepened her practice.
Nikki has a special interest in inter-generational and ancestral healing and its strong connection to Yoga. When teaching, Nikki hopes to facilitate a safe space for all that practice. She believes that if we can learn to surrender to any Yoga or meditation practice that one can have the opportunity to understand their life's purpose on a multi-dimensional level. Nikki is always seeking ways to make her Yoga practice stronger and you'll see her attending class as much as teaching.
Emily Hopkins
Emily is a 500-hour certified yoga instructor, as well as a barre instructor. Yoga came into Emily's life when she was in need of the emotional and mental benefits of asana, and she has been a devoted yogi ever since. Emily spreads her love of yoga through her creative sequences designed to open up the body and focus the mind. She loves to incorporate Sanskrit chanting, mudras, and pranayama into her classes in order to lead her students into a zen, ethereal atmosphere. Emily's classes are energetic yet soothing.
Megan Davis
Megan is an E-RYT with Yoga Alliance and a member of The International Association of Yoga Therapists (IAYT). Her study and practice of yoga are informed by her experiences with rehabilitation, theories of traditional anatomy and Anatomy Trains®, along with the application of techniques from kinesiology and movement therapy.
Megan was one of those kids who liked to figure out how things worked, who liked to investigate the insides of things. Marked for medical school at a very early age, she played with microscopes and ant farms at home and took advanced science classes at school, completing her first mammal dissection in grade 8. Megan majored in biology and philosophy at university with minors in physics and chemistry. A quarter life crisis (the details of which are not so important) changed her trajectory and she earned a degree in public health and became a women's health educator and researcher. Another crisis (of the existential variety) lead to an advanced bioethics degree and then a PhD in disability studies. Somewhere between the existential crisis and the bioethics degree Megan was in a severe car accident that resulted in 14 spinal injuries. This is when she started practicing yoga seriously. Since then, yoga has provided her with a systemic approach for decreasing pain and increasing function.
Since becoming a yoga teacher in 2005 Megan has worked with students who have moderate to severe injuries and chronic conditions. Her teachers come from awide range of traditions and include: Doug Keller, Jenny Otto, Donna Farhi, Matt Sanford, Judith Lasater, John Friend, Rod Stryker and Shiva Rea. Megan believes that the benefits of yoga can be accessible to anyone who is willing to try. Her teaching style is precise, sometimes unconventional, and relies heavily on comic relief. In addition to teaching yoga, Megan is a professorial lecturer at the George Washington University in the religion and philosophy departments. Megan lives in Washington DC with her dogs, who love raw kale and snore during yoga nidra.