Summer Yoga Retreat: Creating Community
June 25-27, 2021
Blue Mountain Retreat Center
Knoxville, Maryland (Near Harper's Ferry)
Email us to register.
Join Lighthouse Yoga Center owner Julie Eisenberg for a pandemic-safe yoga getaway to beautiful Blue Mountain Retreat Center. We have spent over a year socially distancing and connecting through Zoom, FaceTime, phones and masks.
Now life is beginning to return to a semblance of normalcy. We're not out of the woods yet – which is why we will be taking very serious safety procautions on this retreat.
The focus of the retreat in on creating/maintaining community (what else, right?)
This is a hybrid Hatha/Kundalini weekend. 
Vaccination is required.
Masks are recommended when in the yoga room and hanging out inside the house.
Ideally meals will be outside on the deck, or split between inside and outside.
Weather permitting, some classes will be outside on lawn, and we may even add a group hike!
All participants must bring their own mats and props.
Join us for 3 days/2 nights of yoga and meditation, relaxation, companionship and great food.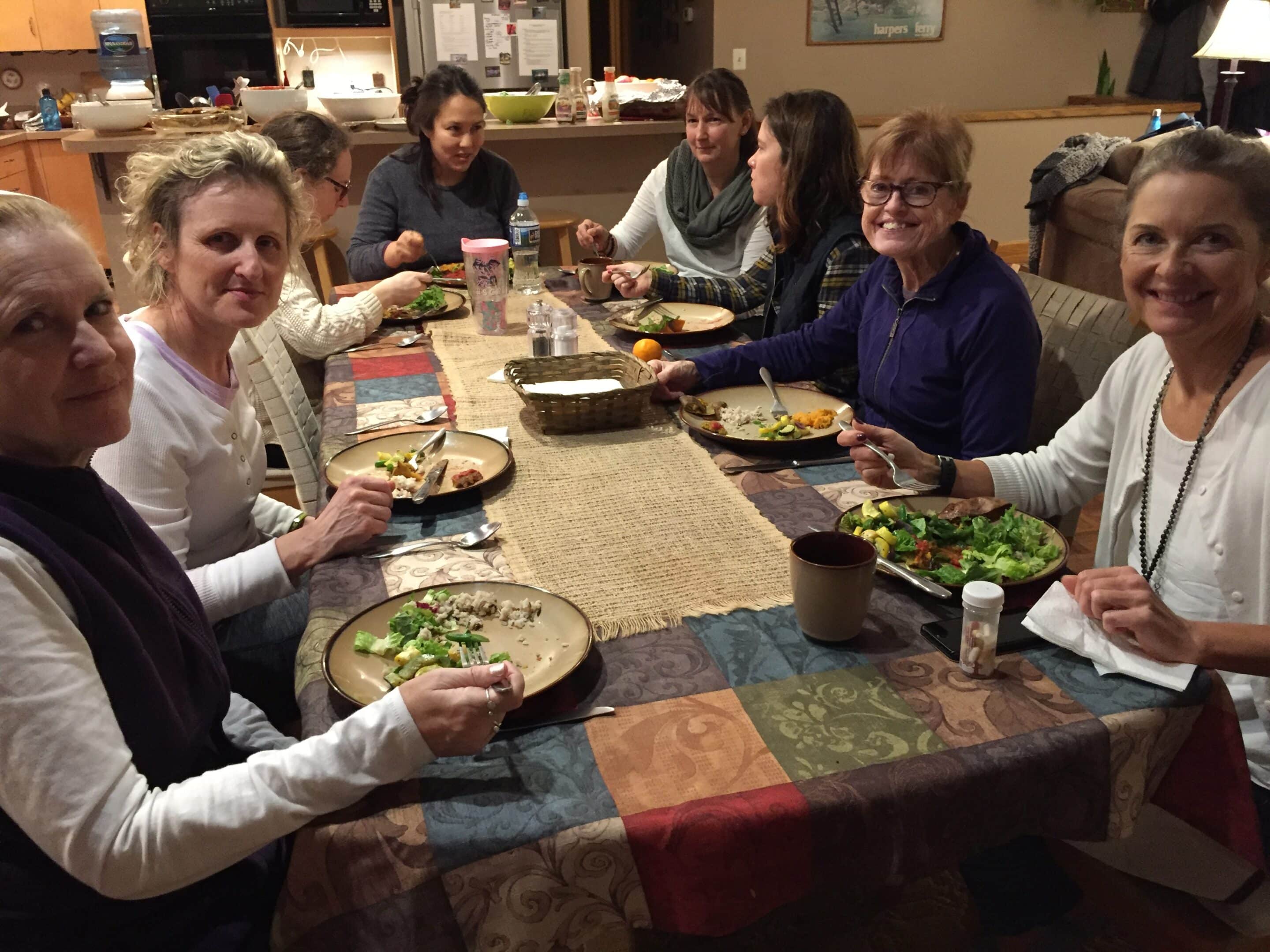 The Location: Blue Mountain Retreat Center
Blue Mountain is convenient to both Washington, DC and Baltimore, MD – about 75 minutes driving time – yet after you arrive and settle in, you feel like you have been transported to the midst of a forest. The secret is the 27 acres of mostly wooded land, just a mile downhill to the Potomac and Shenandoah Rivers and the C & O Canal. The surrounding woods and water make for a peaceful winter getaway.
If the weather cooperates, you can take a hike on the nearby Appalachian Trail or go next door for a horseback ride. Inclement days? Cozy up to one of the fireplaces, or connect with Blue Mountain owner Beth Ehrhardt, a licensed massage therapist, for some relaxing body work.
The retreat center shares 27 acres of property with Ehrhardt Organic Farm, which has been selling high quality, organic berries, vegetables, herbs and flowers to restaurants, at farmer's markets and thru their CSA since 1981. Beth prepares delicious, organic home-cooked meals, sourced from her farm as much as possible, to retreat participants. Vegan and gluten-free options are available.
Massage appointments are available on-site. Massage cost is $80/hour.
What people have said about our Blue Mountain Retreats:
"I'm writing to express my appreciation and gratitude for a rigorous, vigorous, and vibrant retreat experience at your Blue Mountain retreat last weekend! As an older person who experienced kundalini yoga for the first time, it was, I admit, a bit of a shock. But your expertise, encouragement and balanced approach inspired me to 'stretch' and take care of myself at the same time." SG, 8/2018
Registration Is Now Open
Attendance will be limited to a maximum of 12 people.
Some of the rooms are shared, though we will keep room capacity as low as possible.
We'll hold as many classes outside as possible, and we should be able to eat at least some of meals out on the deck.
We can keep windows in the yoga room open to facilitate circulation, and hand-cleaning measures and masks when appropriate will be required.
If you start feeling sick before the start of the retreat, you'll be entitled to a refund or credit.
For the safety of everyone, Covid vaccinations will be required.
The Schedule
Arrive Friday June 25 between 2 and 4 pm to settle in.
Friday:
4:30 pm: Yoga and Meditation
6:30 pm: Organic, home cooked dinner.
Evening: Intro session in yoga room.
Saturday:
6:30 am: Early morning yoga (optional)
8:00 am: Breakfast.
10:00 am: Yoga
12:30 pm: Organic home cooked lunch.
Afternoon: Free for outdoor or indoor activities. The yoga room will be available for personal practice.
4:00 pm: Yoga and Meditation
6:30 pm: Organic home cooked dinner
Evening: Community building + Gong Meditation
Sunday:
5:30 am: Modified Sadhana, hopefully on the lawn to watch the sun rise!
8:00 am: Breakfast
10:00 am: Yoga and Meditation
12:30 pm: lunch, clean up, pack up, departure after lunch
The Cost
Price includes two nights lodging, all meals and classes. Bedding and towels are provided.
$475 for shared room and shared bathroom.
$525 for single room and shared bathroom.
If you want to share a room with a specific person, please indicate that when you register.
Refund Policy
Full refunds are available until June 12 if you pay by Venmo or check; if you've paid by credit card, there will be a $25 cancellation administrative fee.
After June 12, refunds are granted only to individuals who submit proof of a positive Covid test or other illness. Paid registrations are transferable to another individual at any time and are not subject to administrative fees.