Yoga for Men
With Brian Carr and Patrick Chapman
Saturday April 18
Men handle work and family responsibilities on a daily basis.   A regular spiritual practice is crucial for men to manage life pressures, cultivate relationships, and maintain a happy and healthy lifestyle.
Join Brian Carr and Patrick Chapman in this three-hour workshop to:
1) Practice kriyas and meditations to expand your awareness and develop a peaceful mind.
2) Explore Kundalini Yoga, relate with other men, and reflect about how Kundalini Yoga can be applied to your daily life.
Both new and experienced yoga students are welcome to attend.
Cost: $35 general / $25 members. Email us for your discount codes.
Register here
The Beauty of Boundaries
Sunday April 26, 2:30-5 pm
Teacher: Abby Dobbs

 Cost: $45 general / members save 20%. Register here.
Boundaries are our energetic containers – how we manage our life force both internally and externally.
Boundaries have many definitions and purposes – and how you individually relate to them is hugely important in your life. They can have a positive or negative impact on our lives, depending upon how we use the power inherent in them.
Mindfully managed, boundaries support and protect us, and feed our spirits. Used incorrectly, boundaries can cause drama in many aspects of our lives.
Without boundaries, we can become depleted and compromise our energy. When we become more skillful in setting appropriate and healthy boundaries, we actually create more freedom!
Learn more here.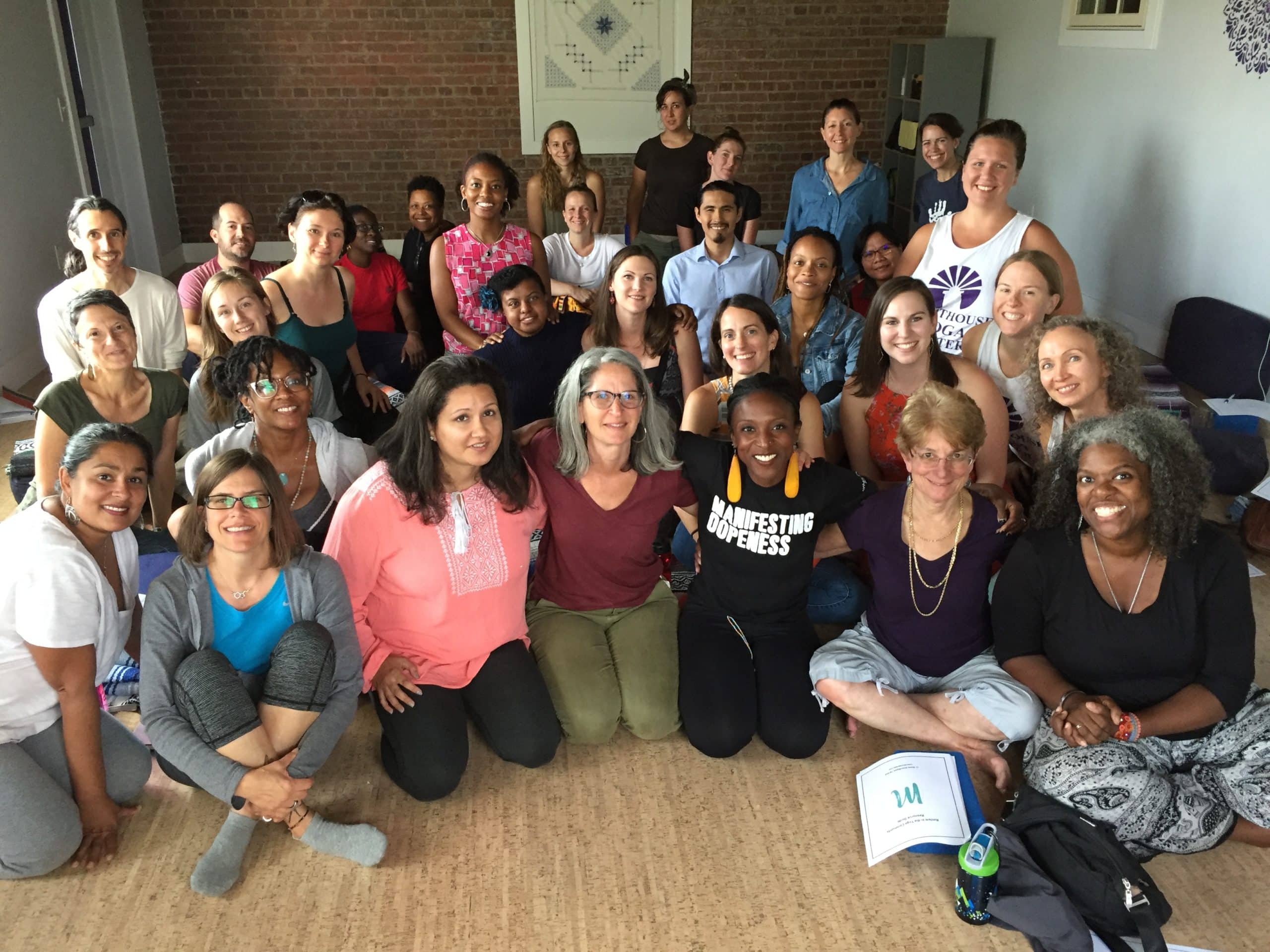 Yoga and Racial Justice: An Anti-Racism Immersion
Sunday July 12, 10 am to 6 pm
Teacher: Dr. Monea Abdul-Majeed
Sliding Scale: Give a little $140 / Just right there $108 / Get a boost $84
(contact us for scholarship opportunities)
Register here
For far too long, "racism" has been the elephant in the room. It's been covered, downplayed, spiritually bypassed, or ignored.
Now is the time to lift the veil, confront racism and work together to dismantle it. There's no better place to do the messy digging of antiracism than a yoga studio.
This workshop is for you if you….

Are tired of basic racism 101 trainings that merely touch the surface of antiracism and leave you feeling guiltier or more traumatized than you did before attending…

Are mad at yourself for laughing at racist jokes, clenching your purse when a man of color approaches you, or mad because you want to be the change but have no clue how to be a part of the solution…

Are baffled by or defensive when you hear terms like white fragility, white privilege, or white supremacy but don't want to ask questions for fear of "sounding racist"…

Are tired of being treated like you're invisible when you enter predominantly white spaces or being highly visible as the only person of color in the room who is cornered into answering all of the race questions…

Are well-intentioned and ready to use your voice, your yoga practice, and your heart to make our country more welcoming to all but have no idea how to get started…

Are afraid any conversation about race, racism, or antiracism…
Learn more here.
Ongoing: Yoga for Happy Hips with Megan Davis
Tuesdays 6:15-7:30 pm, February 18-March 10
Teacher: Megan Davis
Hip & Pelvic Power! A 4-week Series to Get Hip with Your Pelvis
Cost: $75 general / members save 25%
Register here
In this series, we'll explore myofascial release and variations of standing and seated asanas that help us balance strength and flexibility in the hips. Tightness and prolonged contraction of the pelvic floor muscles and the internal and external hip rotators can cause lower back pain and can contribute to misalignment of the sacrum.  So you'll learn some techniques to counter asymmetry in the hips and all the things our pelvises are missing out on when we spend too much time sitting in chairs!
This series is appropriate for students of all levels. Students with injuries are welcome and variations will be offered.