Harmonize the Chakras with Abby Dobbs
Saturday May 30, 2-4 pm
Cost: $40 general/ $30 members 
Register here.
Join Abby in this special workshop where you'll learn practices to connect with, empower, and expand your chakra energy and auric field. Chakras are powerful energy centers through which we uptake and transmute Source energy into our physical, emotional, and spiritual bodies.
As yogis, the chakra system is one of our most direct and effective tools to work with our own individual energy field, or auras. When we are stressed out or anxious, our physical and energetic bodies contract and tighten, cutting off our ability to communicate with Source energy. In this workshop, we'll learn tools to soften and open our aura so that we can harmonize more easily with universal energy.
The workshop will weave together a Hatha-Inspired Vinyasa Flow class with breathing practices and a guided meditation. Together, these will open and warm the physical body, and deepen the visceral experience of prana moving within and around the chakras. Each part of this workshop will build your skillfulness in feeling the chakras and your own auric field. You'll leave feeling relaxed and connected and with actionable tools to continue working with your chakras.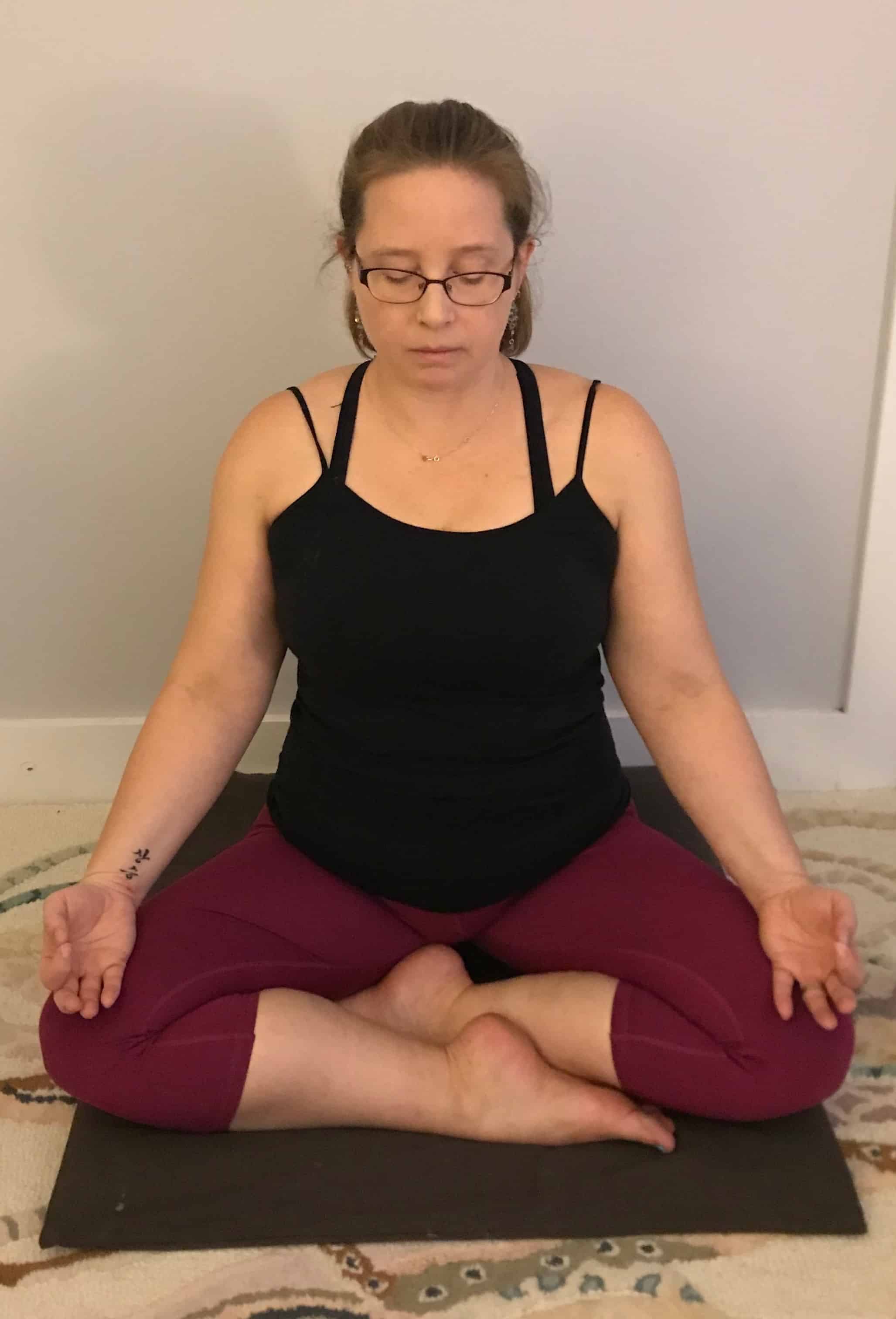 Prenatal Yoga 6-Week Series
6-Week Series, June 3 to July 8

Wednesdays 6:15-7:30 pm.

Instructor: Rebecca Henry
Join birth and postpartum doula Rebecca Henry for a very special 6-week Prenatal Yoga Series.
Prenatal yoga is not just a regular yoga class adapted for pregnant people.  At a time when everything is changing in your body, prenatal yoga helps moms-to-be reconnect with and build body awareness, stretch,  strengthen and release the muscles most easily affected by pregnancy and foster a greater understanding of what is happening with our bodies during pregnancy and childbirth.
Cost: $90 for the full 6 week session / Members save 20%. No drop-ins please!
Register here. (Please scroll down).
Full description here.
Full Moon Meditation
Full Moon Meditation: Thursday June 4, 7:30 pm

Free and open to all. Live streaming on Zoom. Register here for your zoom link.
Meditating under the power of the full moon amplifies the power of our meditation, allowing us to connect more deeply with the voice of our soul and tap into our inner peace. Join us for this monthly donation-based Kundalini meditation, to uplift your spirits and guide you through the coming cycle.
Open to all, no meditation experience is required. Donations are accepted.
Aquarian Sadhana
Live Streaming  on Sunday June 7, 5-7:30 am

2.5 hours of Kundalini Yoga and Meditation. Register here for your zoom link.
Meditating with the rise of the sun (the "amrit vela") sets us for the day and provides a powerful spiritual experience to carry us through life. During the Aquarian Sadhana, we open at 5 am by chanting Japji, a poetic text that takes about 20 minutes. This is followed by a Kundalini Yoga kriya, and then 62 minutes of beautiful chanting.
Learn more about the chants here.
Free and open to all. Doors are locked at 5:20 pm.
Upcoming dates: June 7, July 19
Yoga Book Club: This Will Be My Undoing
Saturday June 13
Noon to 1:30 pm
For our next book club, we're keeping the discussion about racism and racial justice alive.
Our spring book is This Will Be My Undoing: Living at the Intersection of Black, Female, and Feminist in (White) America by Morgan Jerkins.
"This Will Be My Undoing" is a series of essays that explore ot means to "be"—to live as, to exist as—a black woman today. The author – who was 25 at the time of writing (2018) examines how society views and treats Black women. Body image, hair, motherhood, gentrification, and living with on-going stress as a Black woman are all discussed. 
Discussion leader: Suzanne Henley
See more details here.
Experiencing and Teaching Mantra with Sada Sat Kaur
Sunday June 14, 2-4 pm
Cost: $35 general / $25 LYC members. Register here.
Join Sada Sat Kaur for a special 2-hour training on how to experience and teach mantra in the Kundalini Yoga tradition. Open to all. 
Mantras – or chanting – connect us to our inner self and to the infinite energy of the universe that flows through us. Through mantra we can expand our creativity and our joy. We can open our ears to new ways listening, and our eyes to new ways of seeing.
We will practice mantras to:
Bring peace to our minds
Be in our hearts
Create healing for ourselves and others
Connect to the infinite and loving energy of the universe
 You will learn how to:
Deeply listen
Conquer fear
Connect with your inner self
Open to the flow of love and life
Get Unstuck with Evan Faber
Sunday June 21, 6:30-8:30 pm
Teacher: Evan Faber
Cost: $25 general / $12.50 members (50% off)
Register here
A Summer Solstice meditation and peer support workshop to help you do that thing you've been meaning to do.
 We all have those things "on our list." That email you never responded to. The research that will get you closer to a goal. Writing the letter to someone in your life so you can get it off your chest. Cleaning out your basement or closet. Redoing your resume. Organizing your damn photos.
 The Summer Solstice is a great time to recommit to yourself. Bring a journal, a yoga mat, and 3 matters of unfinished business that you are ready — or want to become ready — to confront. We'll meet online for some discussion, guided meditation, and breath work to unwind the tension we hold around our hard stuff so that we can move forward in grace.
Full description here.
The Beauty of Boundaries
November 1, 2:30-5 pm
Teacher: Abby Dobbs

 Cost: $45 general / members save 30%. Register here.
Boundaries are our energetic containers – how we manage our life force both internally and externally.
Boundaries have many definitions and purposes – and how you individually relate to them is hugely important in your life. They can have a positive or negative impact on our lives, depending upon how we use the power inherent in them.
Mindfully managed, boundaries support and protect us, and feed our spirits. Used incorrectly, boundaries can cause drama in many aspects of our lives.
Without boundaries, we can become depleted and compromise our energy. When we become more skillful in setting appropriate and healthy boundaries, we actually create more freedom!
Learn more here.
Post-Natal Yoga (with Babies)
6-Week Series – ONLINE
Fridays, 10:45-11:45 am
May 8-June 12
Instructor: Rebecca Henry
This postnatal class series, designed for moms with babies 6-weeks to pre-crawling, will focus on strengthening, stabilizing and stretching all of the areas of the body hit hardest by pregnancy, childbirth and caring for baby.
This includes your chest and back muscles, your core and pelvic floor as well as your shoulders, neck and wrists.
Restorative poses throughout each class will help soothe baby-addled nerves. With babies welcome in class, you can feel free to stop your practice anytime you need to care for baby. Each class gives you a chance to connect with other new moms in the community and talk about any issues you are having with your post baby body.
Cost: $90 for the 6-week online series / Members save 20%. No drop-ins please!
Register here.
 Full description here.
Becoming the Best Birth Partner
Stay tuned for next session.
Cost: $75/couple – $65 for members and current prenatal students. Register here.
Becoming the Best Birth Partner: A hands on, yoga based, couples workshop to help prepare for labor.
Join prenatal yoga teacher and birth and postpartum doula Rebecca Henry for a fun partner workshop that will bring together childbirth education and yoga techniques to help you learn how to be a rock solid birth partner.
Many of the postures and breathing techniques practiced in prenatal yoga classes are not only natural birthing positions, but can also serve as comfort during pregnancy and labor. This is especially effective with additional support and pressure from the hands of a loving partner.
Women often intuitively know what positions serve them best during labor, but partners are often at a loss of how best they can help them move between and support them in these positions. Natural labor progression is always enhanced when a mom feels supported and comforted by the people surrounding her. This workshop will focus on teaching birth partners how they can take an active, physical role in the pregnancy, labor and birth process, and therefore be a more relaxing presence for mom.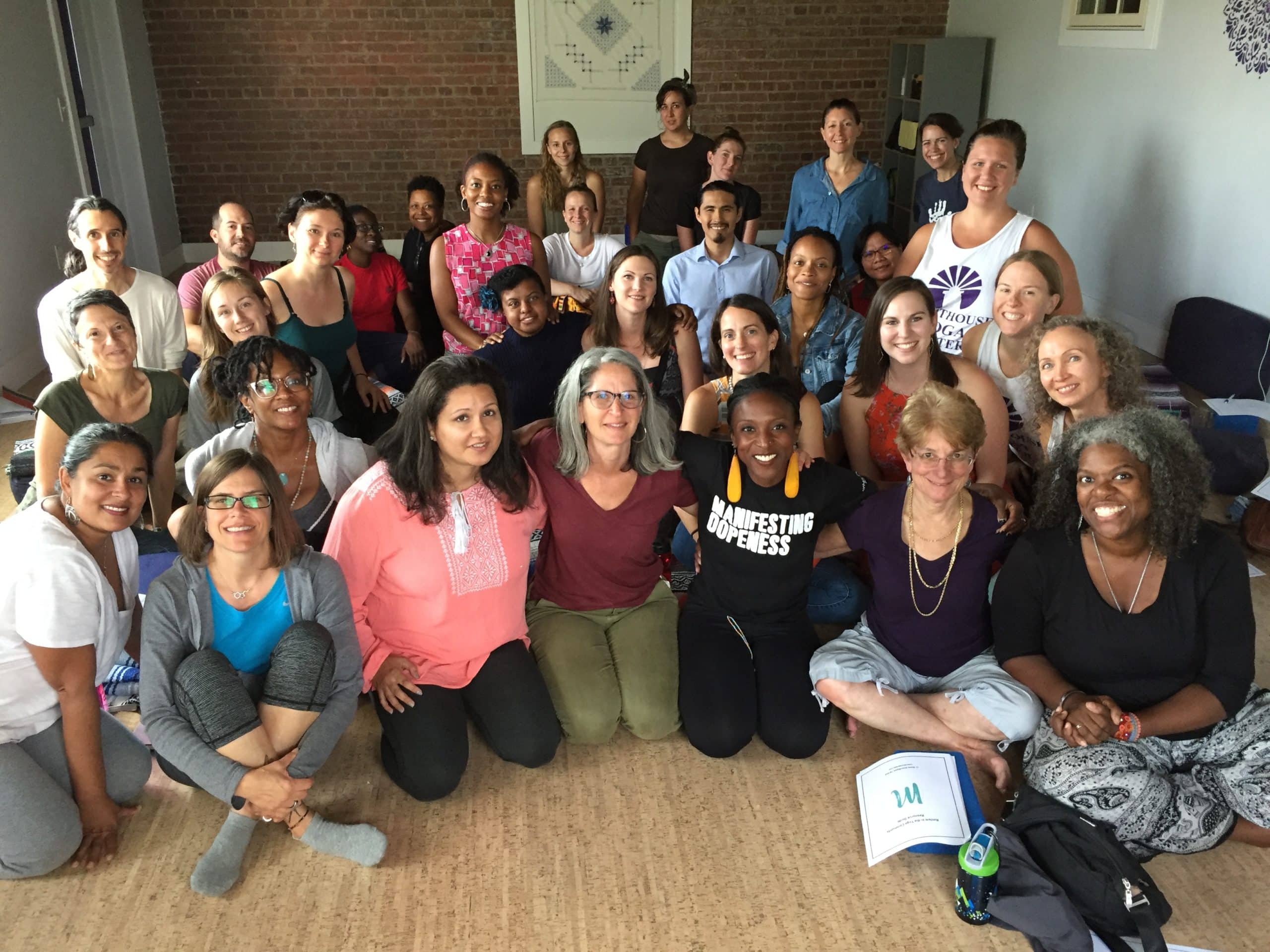 Yoga and Racial Justice: An Anti-Racism Immersion
Sunday July 12, 10 am to 6 pm
Teacher: Dr. Monea Abdul-Majeed
Sliding Scale: Give a little $140 / Just right there $108 / Get a boost $84
(contact us for scholarship opportunities)
Register here
For far too long, "racism" has been the elephant in the room. It's been covered, downplayed, spiritually bypassed, or ignored.
Now is the time to lift the veil, confront racism and work together to dismantle it. There's no better place to do the messy digging of antiracism than a yoga studio.
This workshop is for you if you….

Are tired of basic racism 101 trainings that merely touch the surface of antiracism and leave you feeling guiltier or more traumatized than you did before attending…

Are mad at yourself for laughing at racist jokes, clenching your purse when a man of color approaches you, or mad because you want to be the change but have no clue how to be a part of the solution…

Are baffled by or defensive when you hear terms like white fragility, white privilege, or white supremacy but don't want to ask questions for fear of "sounding racist"…

Are tired of being treated like you're invisible when you enter predominantly white spaces or being highly visible as the only person of color in the room who is cornered into answering all of the race questions…

Are well-intentioned and ready to use your voice, your yoga practice, and your heart to make our country more welcoming to all but have no idea how to get started…

Are afraid any conversation about race, racism, or antiracism…
Learn more here.
Yoga for Men
With Brian Carr and Patrick Chapman
Stay Tuned for New Date
Men handle work and family responsibilities on a daily basis.   A regular spiritual practice is crucial for men to manage life pressures, cultivate relationships, and maintain a happy and healthy lifestyle.
Join Brian Carr and Patrick Chapman in this 2-hour workshop to:
1) Practice kriyas and meditations to expand your awareness and develop a peaceful mind.
2) Explore Kundalini Yoga, relate with other men, and reflect about how Kundalini Yoga can be applied to your daily life.
Both new and experienced yoga students are welcome to attend.
Cost: $35 general / $25 members. Email us for your discount codes.
Register here
How Crow Can You Go?
Stay Tuned for New Date
Teacher: Kristina Maze
Cost: $25 general / $20 members. Register here.
This yoga workshop is something to crow about!
Do you feel grounded when you try to launch into arm balances? Here's your chance to learn to fly. Hatha Yoga gives us plenty of bird poses, and the exhiliration of mastering these flying poses can't be beat.
In this workshop, Kristina (Karuna) Maze teaches the basic foundation of bakasana (Crow Pose) as well as side crow, flying crow, and a few other hand-balance bird poses. Whether you're a fledgling or a soaring eagle, you'll have the chance to experiment, balance, and find your wings.