Full Moon Meditation
Full Moon Meditation: Monday November 30, 7:30-8:15 pm

Free and open to all. Live streaming on Zoom. We start by tuning in, and then do a 31-minute group meditation, to leave us all feeling connected and uplifted.
Register here for your zoom link.
This month we'll focus on shaking off what's holding us back and collectively reaffirming our community.

Meditating under the power of the full moon amplifies the power of our meditation, allowing us to connect more deeply with the voice of our soul and tap into our inner peace. Join us for this monthly donation-based Kundalini meditation, to uplift your spirits and guide you through the coming cycle.
Open to all, no meditation experience is required. Donations are accepted.
Post-Natal Yoga (with Babies)
Fridays, 10:45-noon 
December 4, 11 and 18
Mini-series, online with video replays available
Instructor: Rebecca Henry
This postnatal class series, designed for moms with babies 6-weeks to pre-crawling, will focus on strengthening, stabilizing and stretching all of the areas of the body hit hardest by pregnancy, childbirth and caring for baby.
This includes your chest and back muscles, your core and pelvic floor as well as your shoulders, neck and wrists.
Restorative poses throughout each class will help soothe baby-addled nerves. With babies welcome in class, you can feel free to stop your practice anytime you need to care for baby. Each class gives you a chance to connect with other new moms in the community and talk about any issues you are having with your post baby body.
Cost: $65 for the 3-week online series /$40 members
Register here.
 Full description here.
Yoga Book Club: The Body is Not an Apology
Saturday December 5, noon to 1:30 pm. Free and open to all!
Our Fall Yoga Book Club selection is The Body is Not an Apology by Sonya Renee Taylor.
The Body Is Not an Apology offers radical self-love as the balm to heal the wounds inflicted by these violent systems.
World-renowned activist and poet Sonya Renee Taylor invites us to reconnect with the radical origins of our minds and bodies and celebrate our collective, enduring strength.
As we awaken to our own indoctrinated body shame, we feel inspired to awaken others and to interrupt the systems that perpetuate body shame and oppression against all bodies. When we act from this truth on a global scale, we usher in the transformative opportunity of radical self-love, which is the opportunity for a more just, equitable, and compassionate world–for us all.
Grab your lunch and join us for this community discussion about this powerful and life-changing book.
If possible, we'll offer an option to meet both in-person and on Zoom.
Register here.
Becoming the Best Birth Partner
A Couple's Online Prenatal Workshop with Rebecca 
Sunday December 13, 2:30-5 pm
Join prenatal yoga teacher and birth and postpartum doula Rebecca Henry for a fun partner workshop that will bring together childbirth education and yoga techniques to help you learn how to be a rock solid birth partner.
Working with both mom and partner, Rebecca will show birth partners how to guide, and support the laboring woman, both at home and in the hospital, so that she can find her inner strength to bring forth baby.
Together you'll learn the basics of what to expect during labor, along with partner-enhanced poses and other relaxation techniques that you can use throughout the remainder of pregnancy and labor. The goal is to to ease stress, anxiety and pain, and to promote relaxation and calm so that you can both work to bring baby into the world surrounded with love and joy!
Cost: $85 general / $60 members
Register here.
Inner Work for Racial Justice: Healing Circles
2nd and 4th Mondays of each month, 7:30-8:30 pm. Free and open to all.
December 14.
Black bodies, brown bodies, and white bodies are all affected by racism in different ways. Racism shows up at work, school, in our communities, and all aspects of our daily lives. It affects both individual attitudes and institutional structures. Racism is one of the biggest challenges we face in our work to create a world that is fair and just.
When we take on the task of committing to doing the inner work necessary to create racial justice, we have different work to do.
For BIPOC (Black, Indigenous and People of Color) members of our community, the People of Color Circle provides a safe space to process, heal and strengthen. It's a chance to turn trauma into action, and to support one another on this path.
For white members of our community, the White People Circle provides an avenue for white people to examine the subtleties of white supremecy and how these exist in themselves without fear of being judged and without putting the emotional weight on BIPOC friends to have to explain or defend themselves. It's a chance to explore how to let go of deep-seated biases and become not just an ally, but also an activist.
Let's take on racism with openness, honesty, vulnerability and commitment. Are you with us?
Concurrent caucuses, 2nd and 4th Mondays of the month on Zoom. Free and open to all.
Learn more here.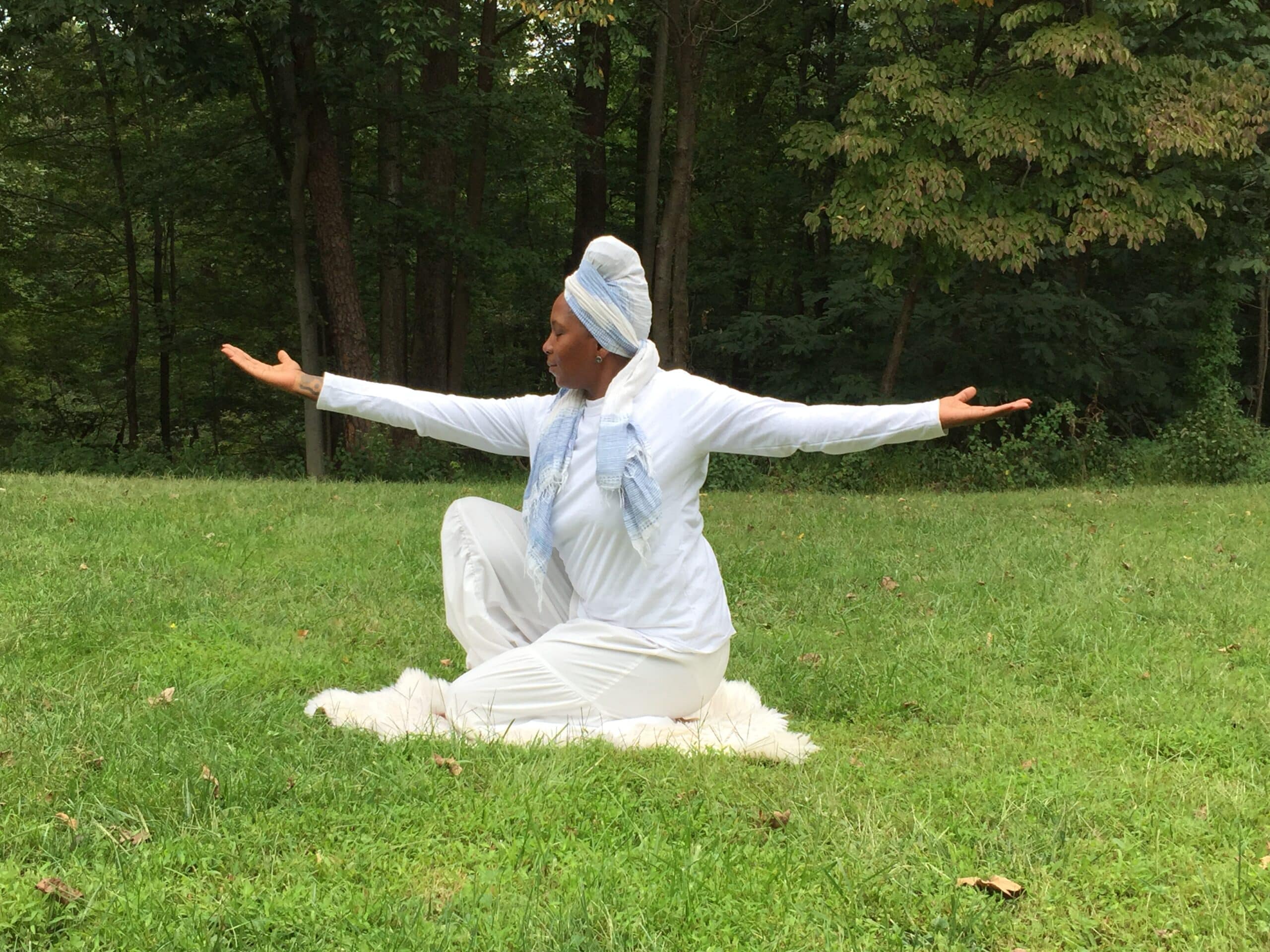 40-Day Meditation for Transformation
Let's say Good-Bye to 2020!!!
40-Day Meditation for Transformation with Nandi starts on November 22 and ends on December 31.

Free and open to all. Live streaming on Zoom. Register here for your zoom link. Find meditation explanation here.
Join us for a 40-day, 31 minute meditation for transformation at 6:20 am daily.
We're ushering 2020 out with a bang.
This year has tested us on so many levels, but we've held strong.
Our community has stood up to racism, tyranny, injustice and a pandemic. Now we're going out with strenght.
For the last 40 days of the year, we're going to come together every morning for one of the most powerful and transformational meditations in the Kundalini teachings: Sodarshan Chakra Kriya. We learn to focus the mind, strengthen the navel center, and expand the breath. We will be ready for 2021 and all that it brings!
Join us daily at 6:20 am on Zoom. Open to all, no meditation experience is required. Donations are accepted. See meditation details here so you can follow along. See meditation details here.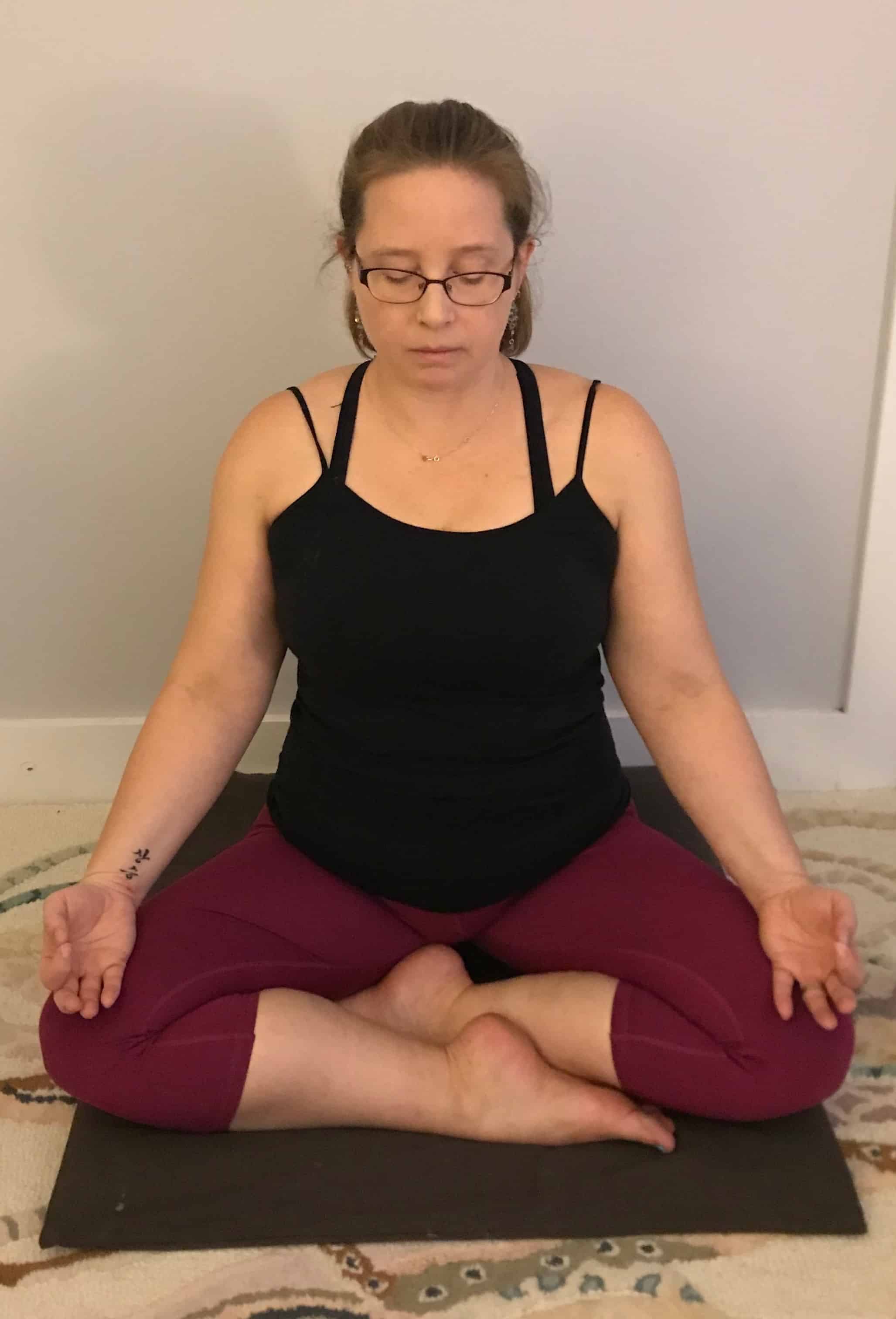 Prenatal Yoga 6-Week Series
6-Week Online Series for Expecting Moms

Next series starts on January 6. Current series is sold out, so be sure to register early!
Wednesdays, 6:15-7:30 pm, January 6 to February 10

Instructor: Rebecca Henry
$100 for the full series, includes class video replays.
Join birth and postpartum doula Rebecca Henry for a very special 6-week Prenatal Yoga Series.
Prenatal yoga is not just a regular yoga class adapted for pregnant people.  At a time when everything is changing in your body, prenatal yoga helps moms-to-be reconnect with and build body awareness, stretch,  strengthen and release the muscles most easily affected by pregnancy and foster a greater understanding of what is happening with our bodies during pregnancy and childbirth.
Cost: $100 for the full 6 week session / Members save 25%. No drop-ins please!
Register here. (Please scroll down).
Full description here.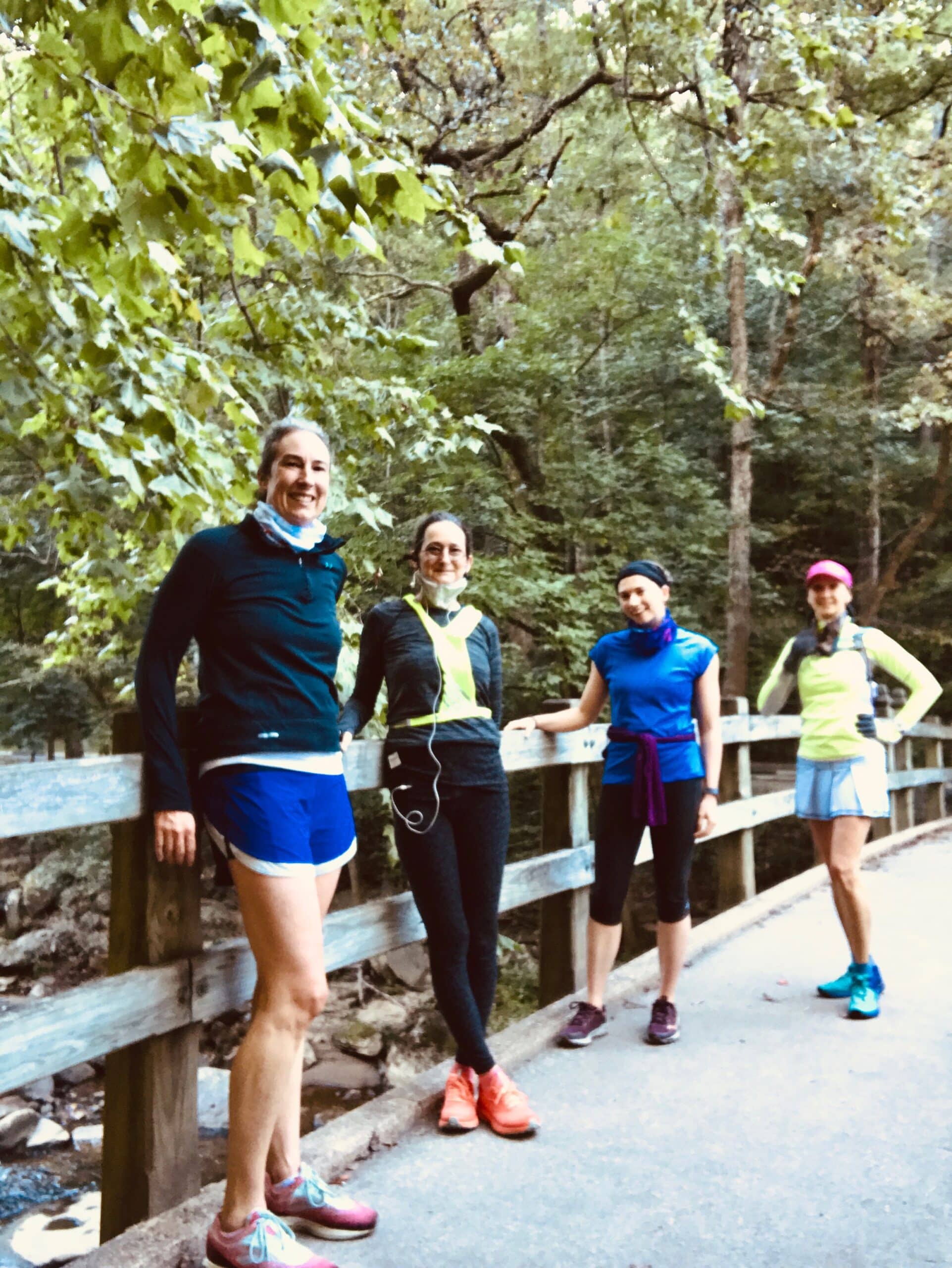 OMiles Yoga + Running Club
Winter edition!

Saturdays, 7:45-9:45 am, January 9-30.

 Join LYC Teacher: Kristina (Karuna) Maze for our Running and Yoga Club.
Four weeks of socially-distanced runs in wintery Rock Creek Park. You'll explore the trails as you build stamina for running. Each run will include yoga stretches for warming up and cooling down.
Get outside, meet new people, and enjoy DC's true gem, Rock Creek.
Cost: $75 general/$45 members. Register here.
Joining instructions will be sent instructions after you register, prior to the start of the series.
Limited to 5 people to ensure safe distancing.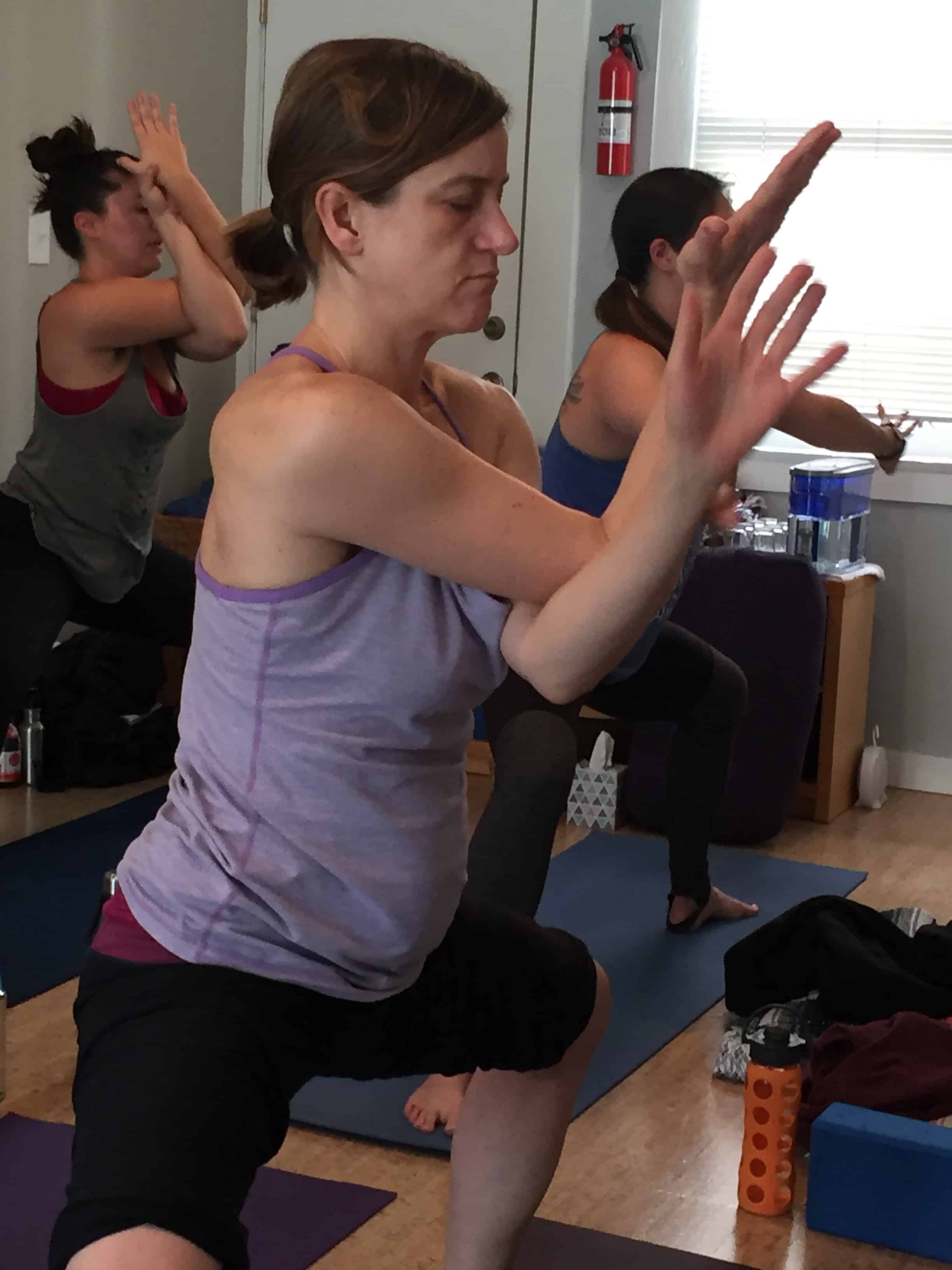 Yoga Fundamentals
6-Week Online Series for Yoga Beginners

Tuesdays, 6:15-7:30 pm, January 12 to February 16

Instructor: Meredith McCullough

Start the New Year with a new healthy habit!
Yoga reduces stress, boosts your immune system, and creates a sense of community – yes, even online. There's no better way to jump into a yoga practice than Yoga Fundamentals, a 6-week series curated for beginners who want to learn the basics. No flexibility required!
Give yourself the gift of yoga this new year.
Cost: $100 for the full 6 week session / Members save 25%. No drop-ins please!
Register here. (Please scroll down).
Full description here.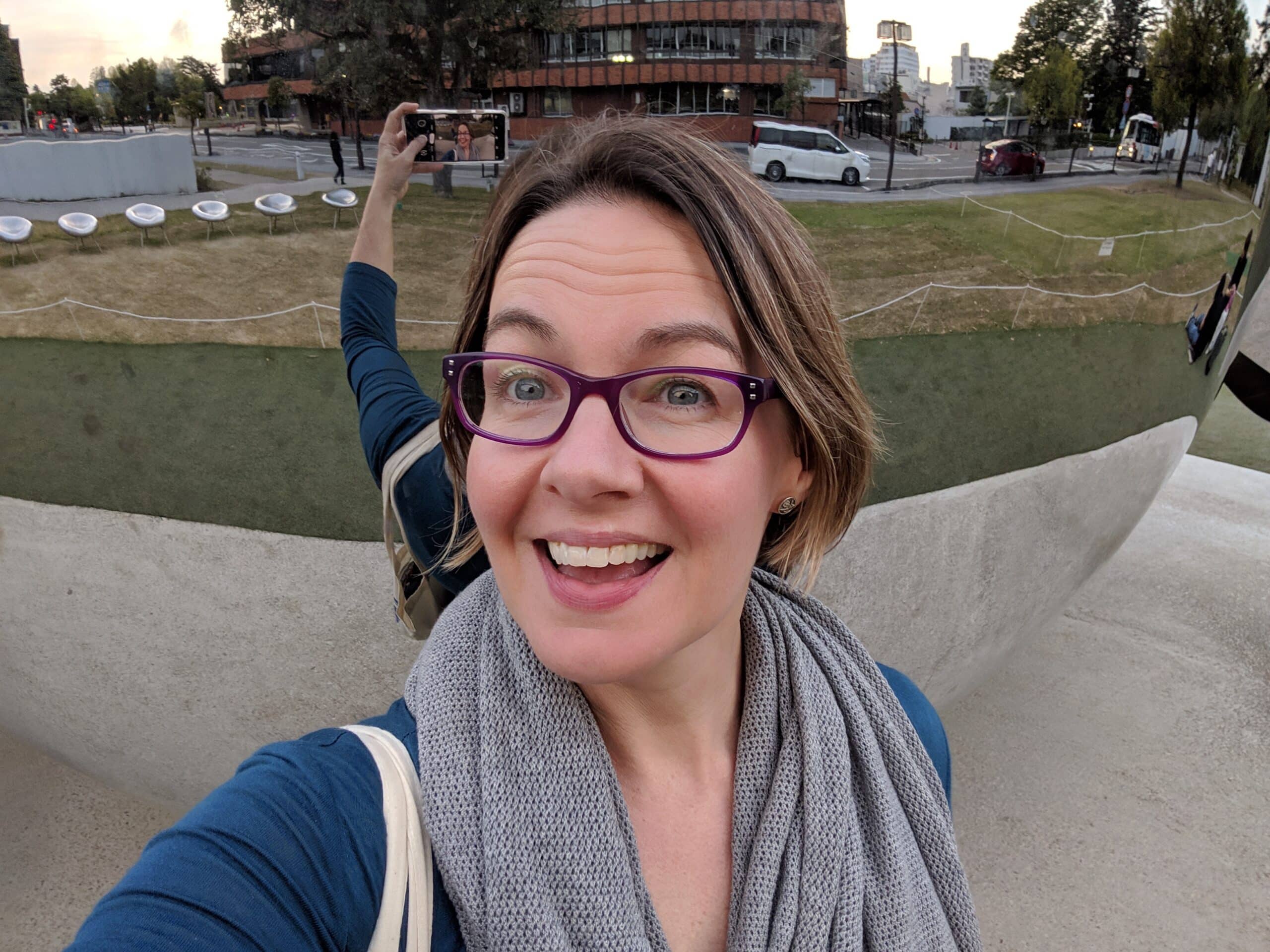 Small Group In-Person Series: Mindful Movement with Jamie
3-Week In-Person Series, limited to 5 people.
STAY TUNED FOR NEW DATES. We're playing it safe in December and canceling studio gatherings, but will evaluate as time passes.
We all have those "sticky" spots in the body that seem to hold us back – maybe areas that just aren't comfortable or that stop us from doing something we want to do – whether it's a pose or the ability to easily perform everyday tasks. By concentrating on one part or area of the body at a time, we can start finding mobility and building strength and flexibility, helping the body feel better overall and discovering the (sometimes surprising) connections between body parts.
This 3-week series is designed to help you:
Identify blind spots in the body that may not be working efficiently and develop techniques to help those areas share the load, leading to a more sustainable movement practice;
Explore and increase your range of motion to help the joints move better; and
Help your body function and feel better as you tackle your day – whether it's running a race or running down the bus.
Join us as we challenge the body and brain in unique and fun ways!
Cost: $70 general / $35 members
All levels!
Register here.
Aquarian Sadhana
Live Streaming. Stay tuned for next date.

2.5 hours of Kundalini Yoga and Meditation. Register here for your zoom link.
Meditating with the rise of the sun (the "amrit vela") sets us for the day and provides a powerful spiritual experience to carry us through life. During the Aquarian Sadhana, we open at 5 am by chanting Japji, a poetic text that takes about 20 minutes. This is followed by a Kundalini Yoga kriya, and then 62 minutes of beautiful chanting.
Learn more about the chants here.
Free and open to all.